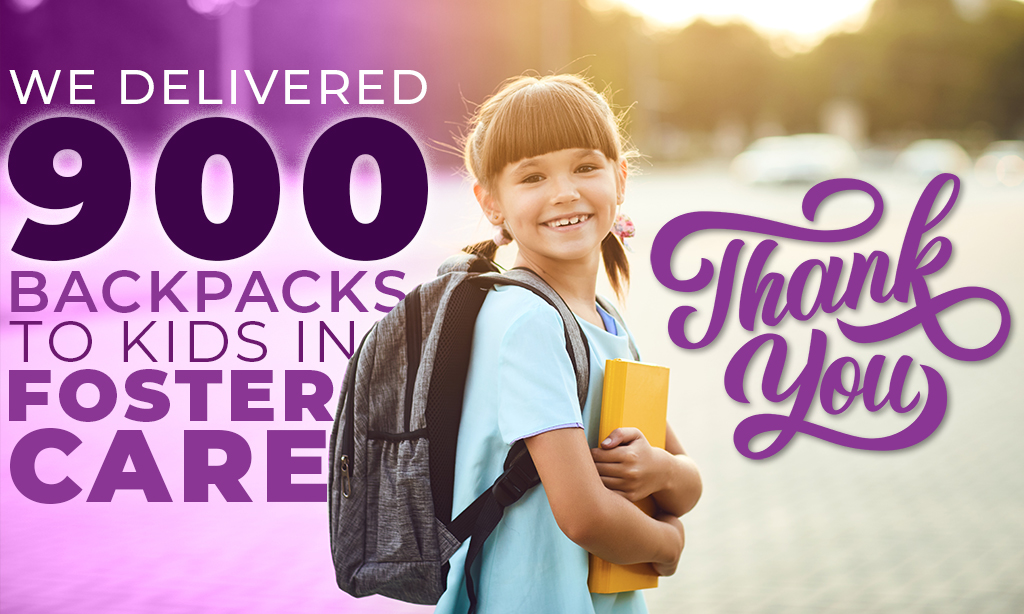 Many foster children must pack their belongings in garbage bags when moving from one foster home to another because they don't own luggage or even a backpack. For each prescription filled using the CharityRx prescription discount card during January and February 2022, CharityRx donated toward purchasing bags for children in the foster care system. We are happy and excited to announce that we provided some comfort by donating 900 backpacks to kids in foster care across the U.S.
Our top reps reached out to organizations in their areas that work with the foster care system and delivered the backpacks to them. Here are some of their stories:
Ben Jackson spent seven hours at Utah Youth Village in Salt Lake City, Utah:
"My experience was truly amazing! I hadn't contacted Utah Youth Village in advance; I just dropped in on this facility. The lady I needed to talk to wasn't there, so I left to get lunch. While I was at lunch, she called me and explained that she was excited to hear that I had backpacks because she had just been out shopping for them for the kids in her program! She explained that she reaches out for donations for back-to-school every August. Not only does Utah Youth Village help kids in foster care, but they also work with low-income families in danger of losing custody of their kids. They hold training courses to help them keep their families together. Many of the families also need school supplies. I was excited to hear that there was such a need for these packs and felt uplifted to be able to help contribute!"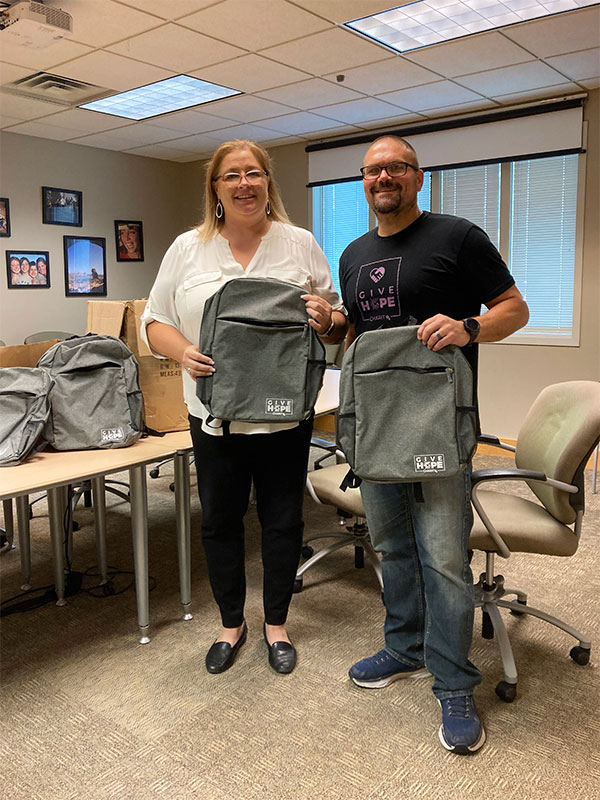 ---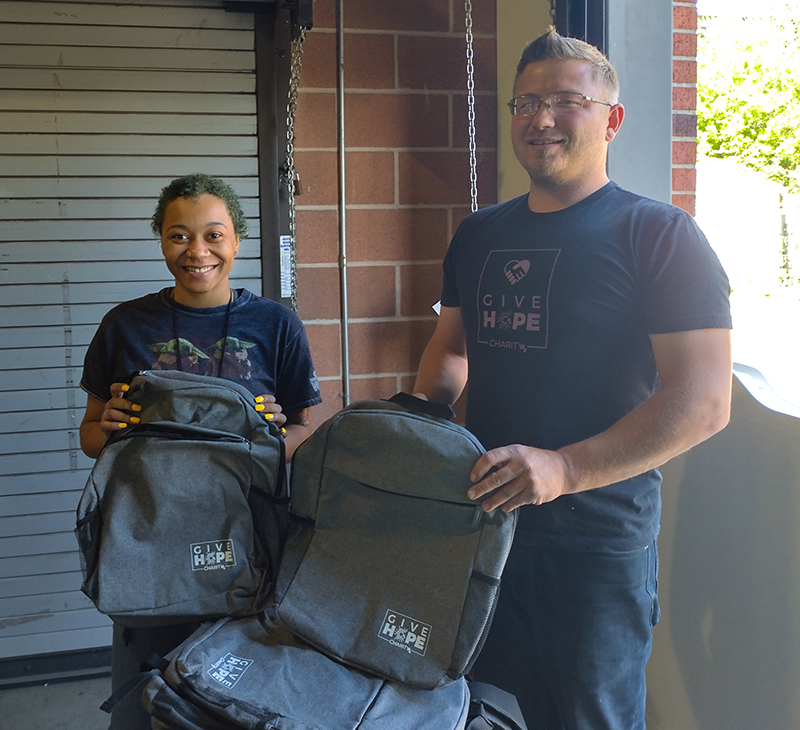 David Gingrass spent four hours delivering backpacks to Treehouse in Seattle, Washington:
"I was a little hesitant to approach this organization at first, as it didn't seem to be their normal type of donation. They operate a free store that allows foster kids to "shop" for things they need like clothes, hygiene products, school gear, etc. Once I was there donating the backpacks, it seemed they were waiting for me to ask for something in return for the donation. After chatting with one of the workers, I found out that lots of donations come in, and then people ask to take a video or take a picture with a foster kid, and she felt that was degrading. She liked I was there simply to donate goods to those in need.
---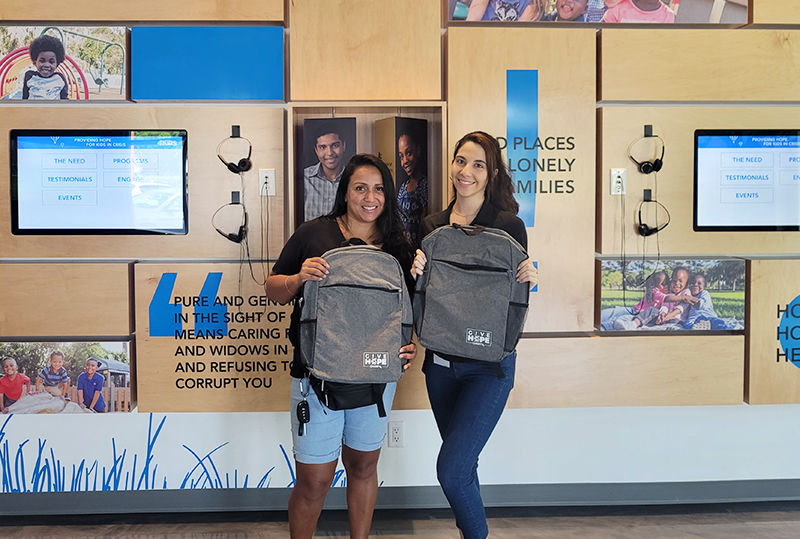 Irma Rivera delivered backpacks to 4Kids in Fort Lauderdale, Florida:
"They were very blessed as of June. They were having a backpack drive for the kids, so it came in at a great time for them."
---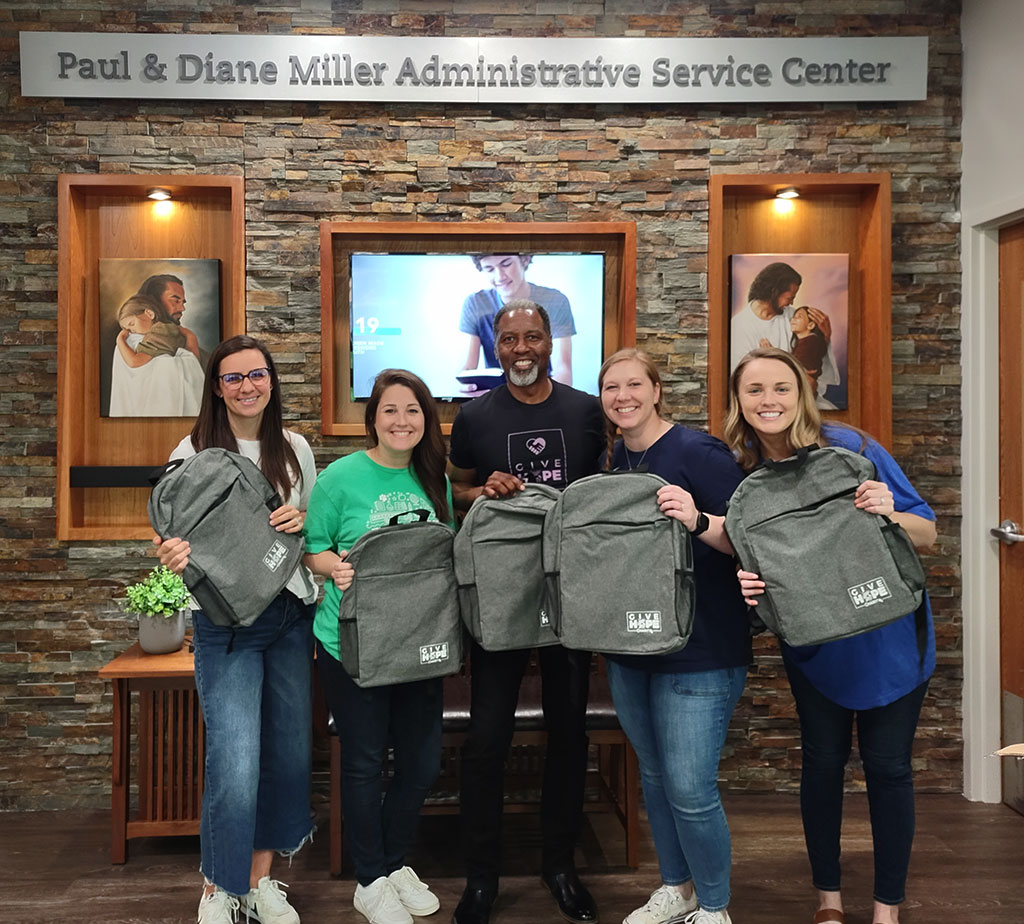 Jim Coleman spent three hours at the Alabama Baptist Children's Home (ABCH) in Birmingham, Alabama:
"The staff at ABCH was very nice and friendly. They all seemed very grateful and appreciative to receive the backpacks from CharityRx. I was given a tour of their facilities, and I found them to be very clean, modern, and professional. I am very impressed with their operation and the care they give. Thanks, Eric, Janae, and everyone at CharityRx and the pharmacies who made this possible. This charity has clearly made a difference."
---
Joseph Maxon donated backpacks to Hillside Children's Center in Rochester, New York:
"I was proud to be a part of CharityRx's initiative to help the kids in foster care with quality backpacks to help them feel a little more cared for. Ashley Valente met with me and received our donation at their facilities. Hillside greatly appreciated our donation."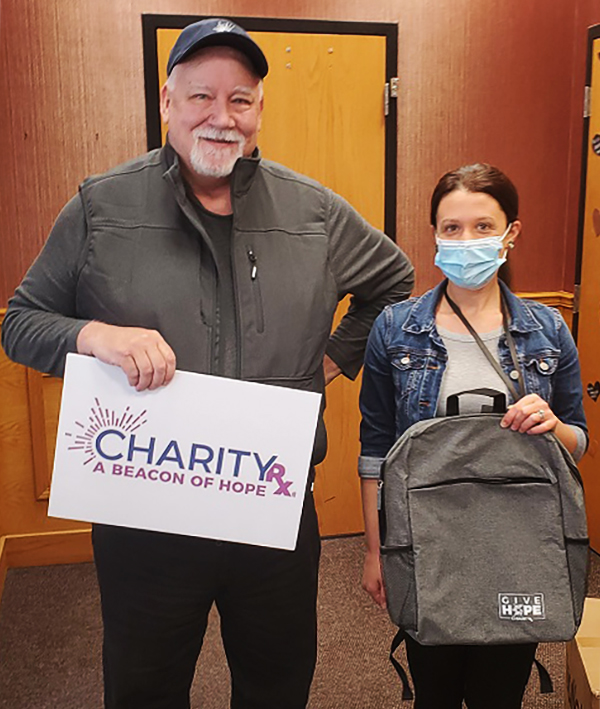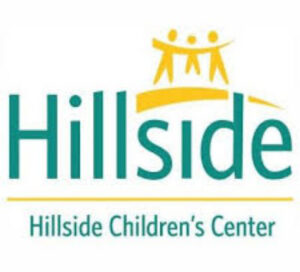 ---
Lynne Halbasch spent approximately three hours with Children's Hope Foster Family Agency in Roseville, California:
"I chose this organization because their name, Children's HOPE, and our tagline, "Beacon of HOPE," just felt right. They also thought it was just right to connect, and they were so very appreciative and delighted to receive help for their young ones."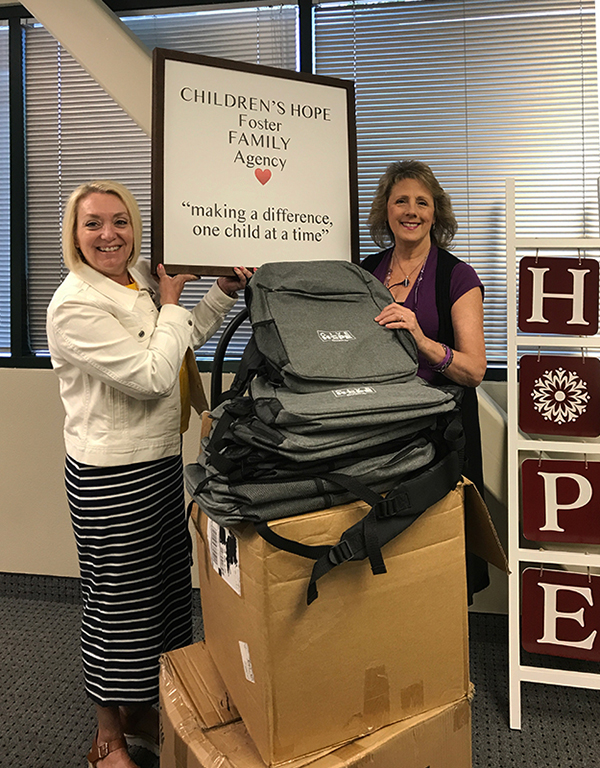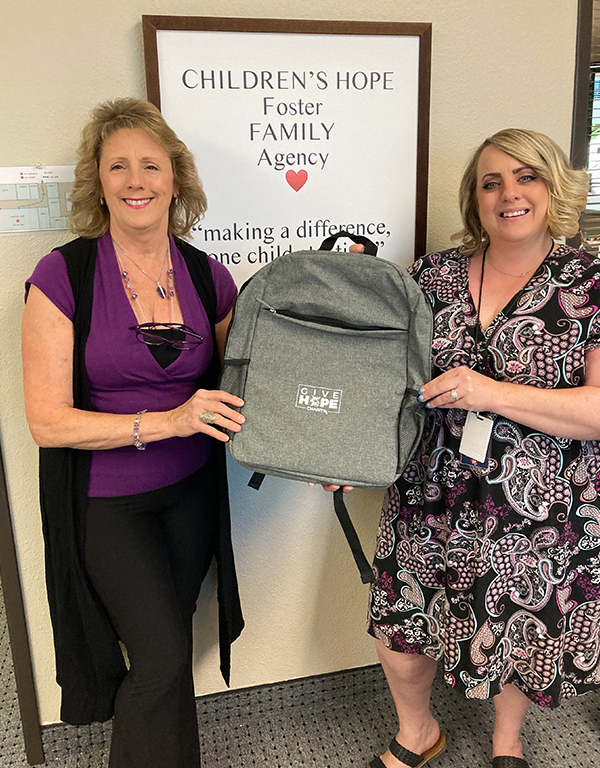 ---
Mary Tockstein chose Koinonia Family Services in Palmdale, California to receive her packs:
"Joanna was so excited to receive the backpacks. She said they will definitely be appreciated and all used."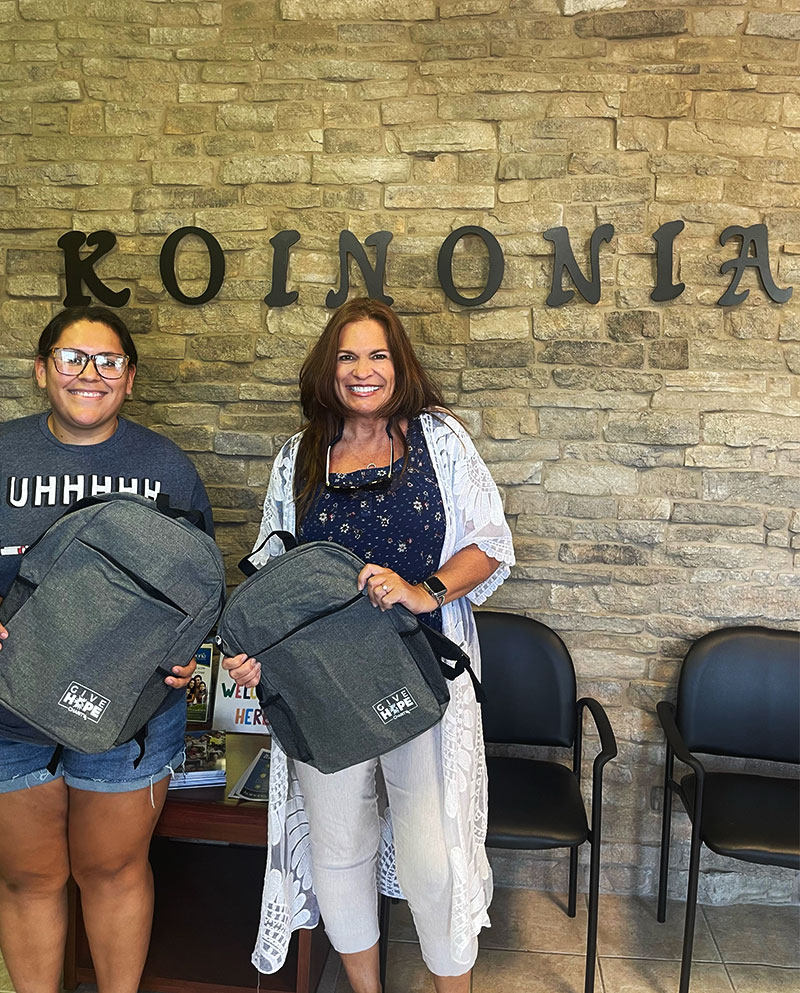 ---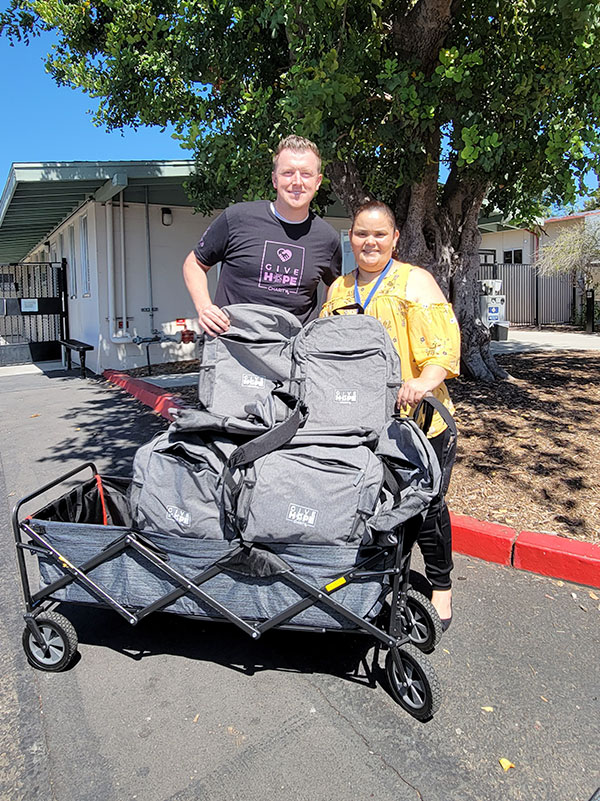 Matthew Noel donated backpacks to the San Diego Center For Children in San Diego, California:
"I had a great time communicating with the Children's Center. They were very kind and so appreciative of us being able to give these backpacks to such a great place."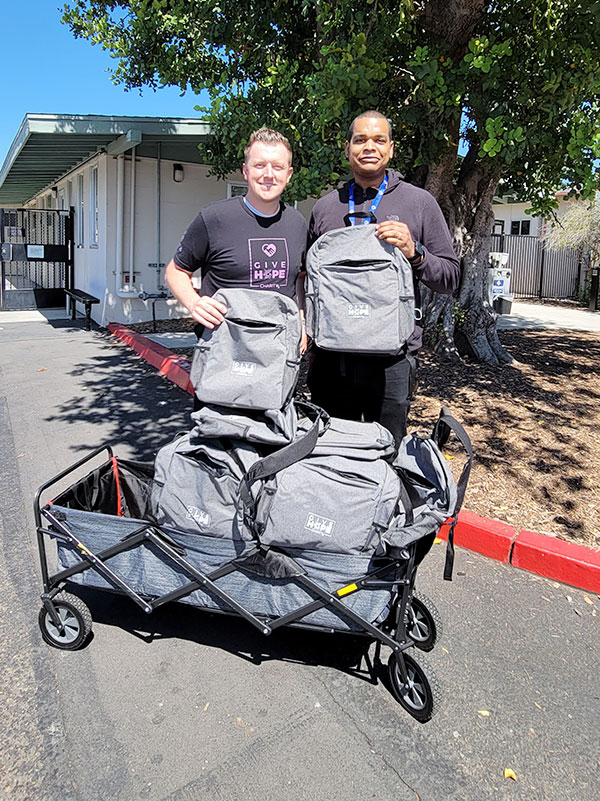 ---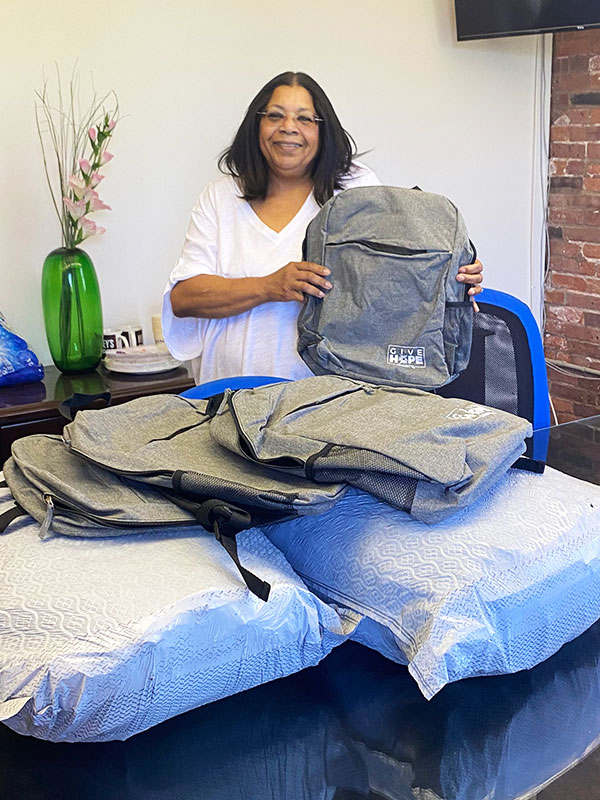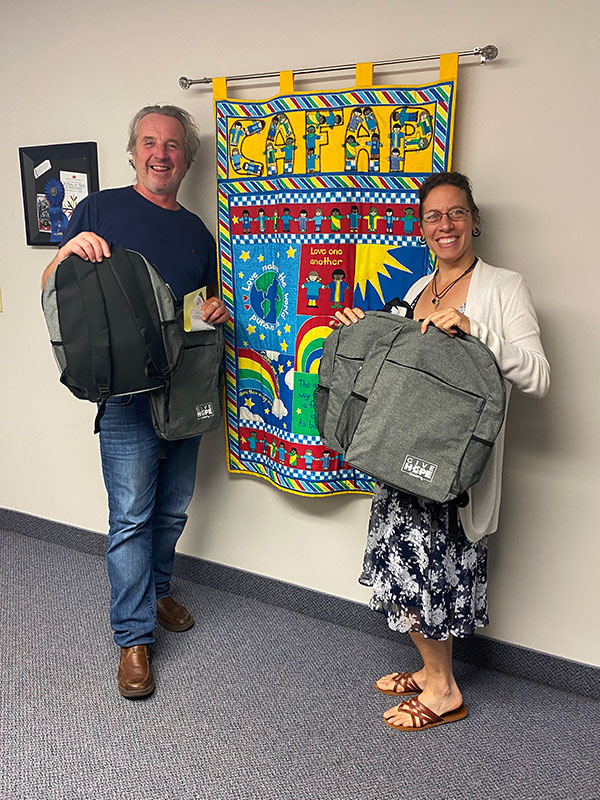 "Melissa, the operations manager at Connecticut Alliance of Foster & Adoptive Families, was so thankful for this gift of bags. She said they would go to immediate and much-needed use. This group coordinates with all foster care agencies throughout Connecticut so that the bags will be distributed far and wide to the neediest kids."
---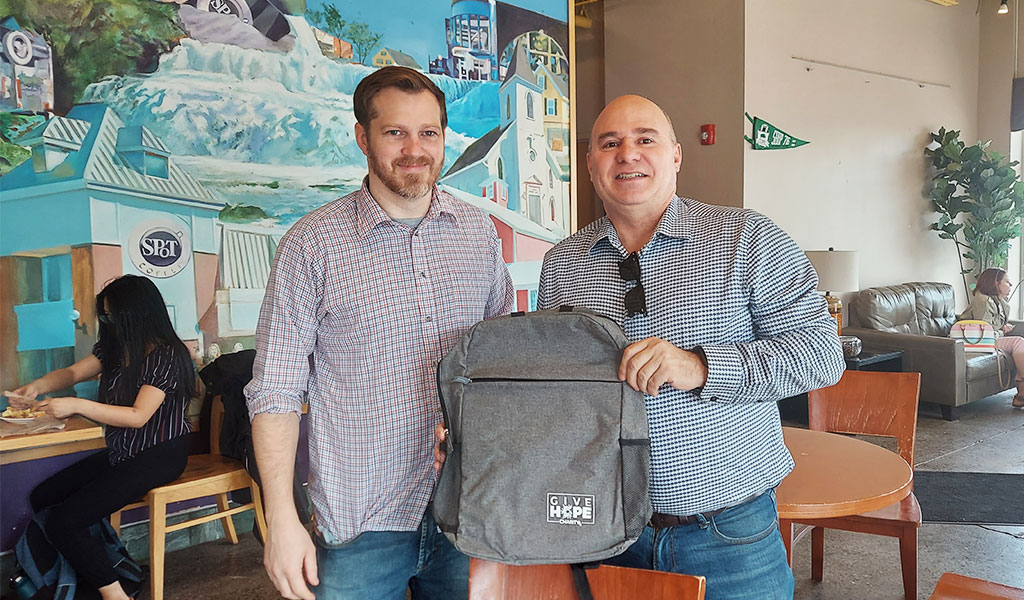 Peter Kent spent three hours with Gateway-Longview in Buffalo, New York:
"I became aware of a great need for donations during this project. I reached out to a few organizations and had difficulty getting a response from the voicemails I had left. Later, I discovered that the personnel involved were overwhelmed with responsibilities. Josh from Gateway-Longview was a great resource, shedding some light on the needs of the foster care system. He was very appreciative of the backpacks."
---
Ray Rios donated backpacks to Angels of Grace in Fresno, California:
"I felt great satisfaction in presenting the backpack donation in person, and the appreciation I saw and felt from the recipient! I think this is great! Now we can go into the pharmacies in our territory and tell them we donated to a local charity they will recognize as local."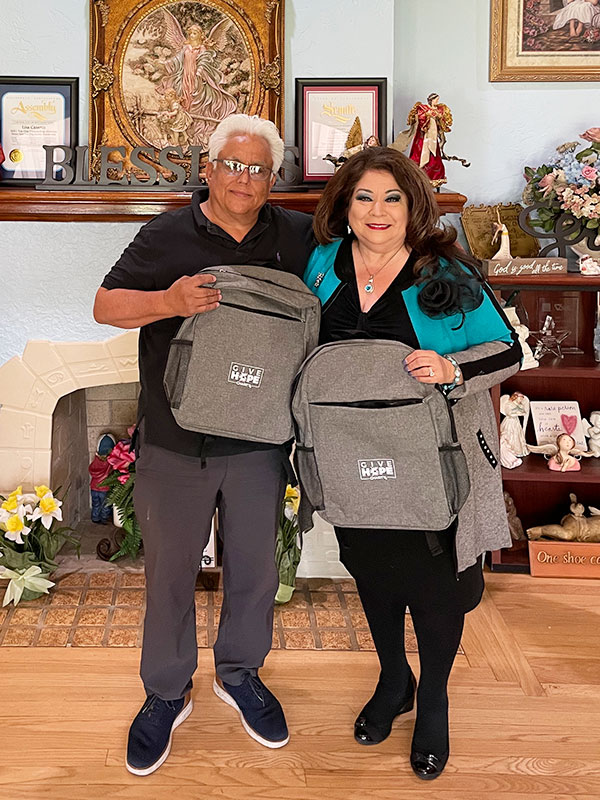 ---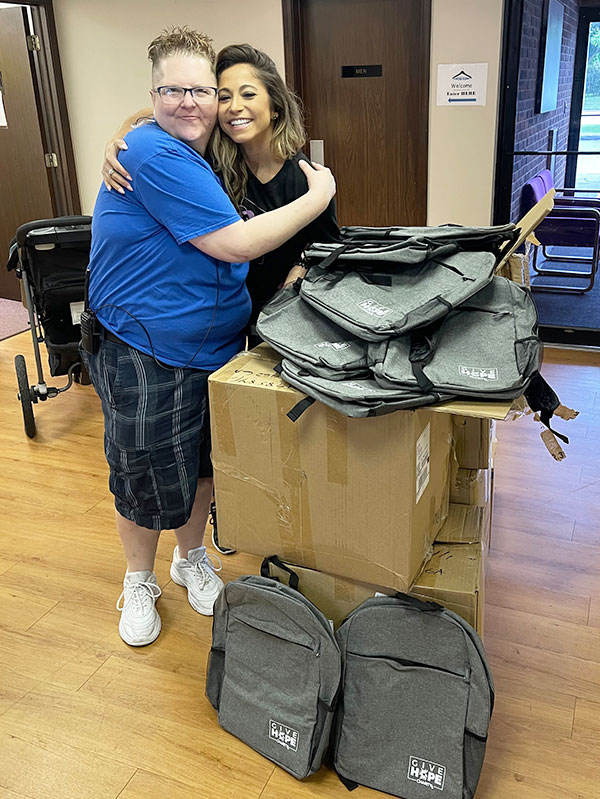 Sarah DeSanto visited the Oakland County Foster Closet in Farmington Hills, Michigan:
"Michelle is the founder of this center and began as a foster parent herself. Donations fund her center, and since she started several years ago, she became able to rent a center and donate to families in need throughout metro Detroit. She's extremely grateful and passionate about helping families; they'll be able to use them to pack goods for the families, and use them for school or just as moving bags for the children. They had a lot of rugged bags, but these were new and beautiful, and she was absolutely thrilled!"
---
Timothy Katko spent five hours at Children's Choice in Chester, Pennsylvania, donating packs:
"I had some trouble finding a place that would take the backpacks in the beginning. I called several organizations, and they wouldn't accept the bags because of the logo on them. The night before I found Children's Choice (CC), I was praying that God would help me find the right place where the children could most use the bags. I contacted CC, and when I met with them, Marlene said they'd had 20 kids placed the night before and that the bags came just in time. She was extremely thankful and pleased; she didn't care about the logos, thought the backpacks looked of fantastic quality and kept reiterating that they could really use them and how thankful she was. Thank you, CharityRx leadership, for allowing me the opportunity to share these backpacks with my community and to make a difference in my own state."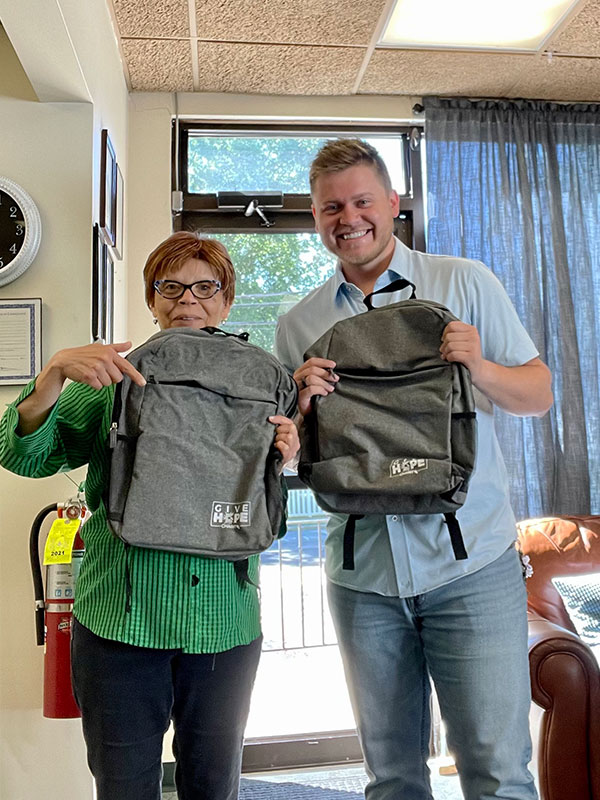 ---
Tonya Saucer contacted Next Step Distribution in Pensacola, Florida, to donate the bags:
"This organization is just amazing. I was so moved by the Ministry Director, Arelia Laster, and her commitment to this community! I plan on volunteering here soon with my daughter, Holin, and our homeschool community. Just before I contacted Arelia, she had received a message from one of her contacts about 20 kids needing backpacks! At the time, she didn't have any, but then she received my message telling her that CharityRx was donating backpacks. What a miracle!! Having Holin with me to experience something like this and for her to see how many children are foster kids or kids in need in our community alone was very moving. Thank you for letting us be a part of this! Holin put a backpack 'Heart Hero' clip on each backpack too!"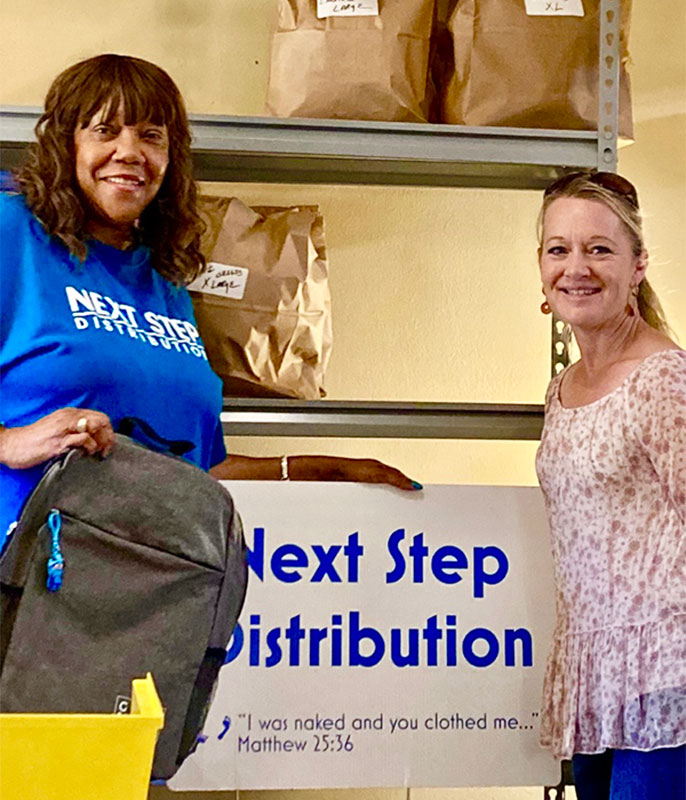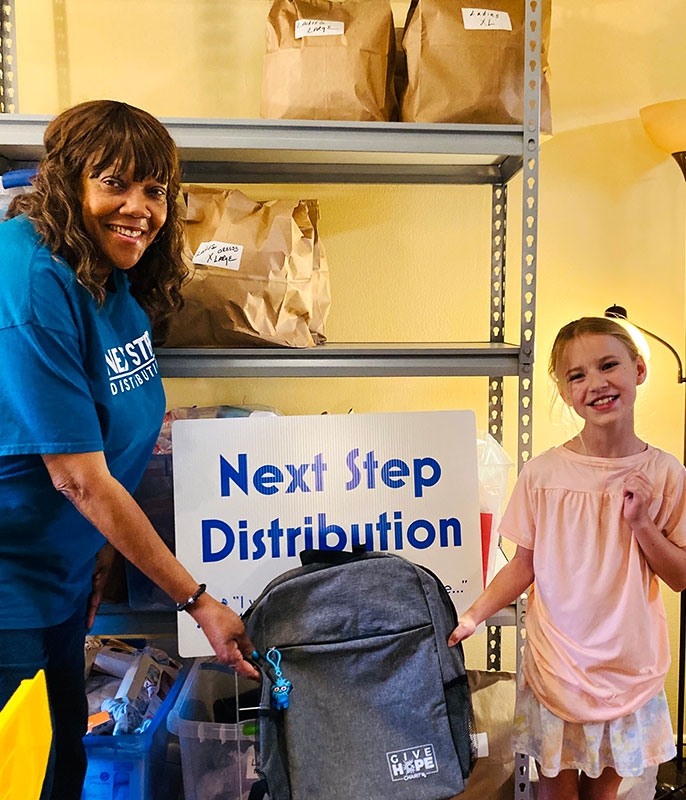 ---
I would like to take this opportunity to thank CharityRx members for the 50 backpacks donated to Brave Heart Children in Need. It is through your giving that Brave Heart is able to provide important services to the many children in foster care throughout Louisiana.
For the past 18 years, many individuals, corporations, and organizations have contributed their time, money, and talent to make Brave Heart of Louisiana Children in Need, Inc. the successful organization that it is today. Since 2004, Brave Heart has grown from serving one parish to all 64 parishes and we will continue to grow and expand our services because of your generosity.
Thank you again for your gift as it helps us to accomplish our mission: Providing comfort and instilling hope for children and youth transitioning in or out of foster care in Louisiana.
Sincerely,
Dee Robinson
Founder of Brave Heart of Louisiana Children in Need, Inc.
---
CharityRx donates to a charity monthly through prescriptions filled using the CharityRx Prescription Discount card. When you pick up a prescription from the pharmacy for yourself, your family, or even your pets, CharityRx will donate to a charity. Watch our blog for the Charity of the Month, and remember to use your card!
---
Use this card to make a donation with every prescription filled.

Simply download the card and show it to your pharmacist to save on your prescriptions and donate to charities.
---