It is with great honor that CharityRx presented the Beacon of Hope Award to Operation Underground Railroad (O.U.R) for their efforts to prevent greater human tragedy as millions escaped Ukraine during the ongoing Russian invasion. O.U.R. has been on the ground, helping refugees, particularly children, to help identify and avoid potential human trafficking schemes and lead them to safety.
On average, more than 70,000 children became refugees over the first 20 days of the war. That amounts to around 55 every minute – almost one per second. This crisis in terms of speed and scale is unprecedented since World War II.
CharityRx has created a massive campaign called PHAT: Pharmacy Heroes Against Trafficking to educate pharmacy personnel and promote awareness to help reduce the number of victims. Our dedicated team of representatives provided these valuable resources to pharmacies throughout the U.S.
We would like to extend a heartfelt "Thank you" to all pharmacy personnel who took the time to review the information provided and enrich your knowledge, helping us create a better world. The movement does not end in April, though, and we ask that you continue to share the information with others who may not be aware. Our mission is worth it if we can help save one more life.
CharityRx is a different type of pharmacy discount card. Like many others, it helps save up to 80% on needed prescriptions at major pharmacies throughout the U.S. Unlike others, it covers a more extensive list of prescription medications, including over-the-counter medicines, compounds, cosmetics, pet meds, and more, as well as some vaccines at various locations. In addition to saving money with the CharityRx pharmacy discount card, each time you use the card, CharityRx donates to a charity. While some charities are ongoing monthly, a charity is chosen every one to two months based on groups who need the most help.
Help us make the most significant impact by using the CharityRx prescription discount card on every prescription you fill and creating the largest donation possible each month to deserving causes.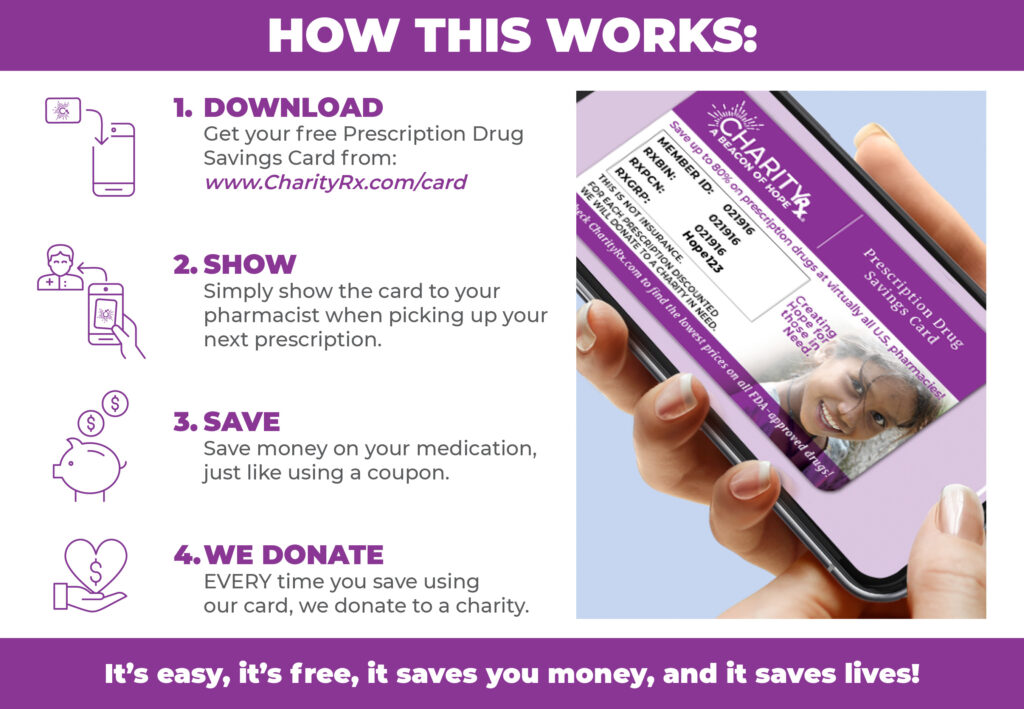 HOW CAN I HELP?