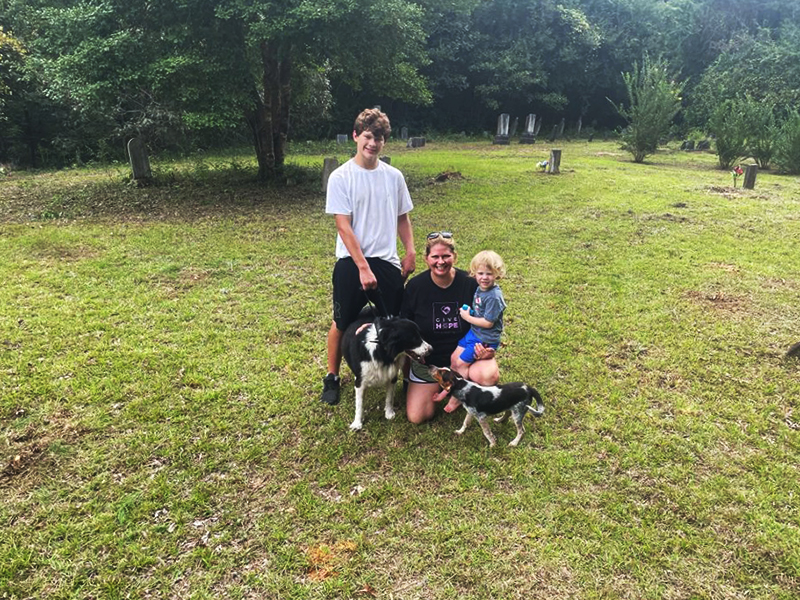 In November 1838, a group of settlers in southern Sumter County gathered at a plot of land owned by the Knox family, establishing the Elizabeth Presbyterian Church. Seven years later, the congregation moved its church nearer to the town of Gaston, a bustling little village that was more centrally located for the membership. The church building has since been moved to the University of West Alabama Campus in Livingston, Alabama as a historic landmark, but the cemetery remained.*
As of 2011, there were only about five church members left. However, there are a lot of people in the area who are not members but have family buried there.
Alana said, "I have a lot of relatives buried in the Elizabeth Presbyterian Cemetery, although I think I only knew three of them personally. I was extremely close to my great-grandmother and she is buried there with my great-grandfather. The people who moved the church tore the fence down and did not attempt to put it back up. Most of the graves were unreachable, especially for older people. The exception was my great-grandparents' grave because I visit their memorial and put flowers on it at least twice a year. The state of the place has bothered me for some time, but I thought the project was too big and would be impossible for me to clean up.
"I racked my brain for something to do for CharityRx Founder's Day, and to be honest, I tried to talk myself out of taking the project on, but I couldn't get it out of my head. Once I decided on doing it, I got my husband to cut the grass, and my 14-year old and I did the weed removal, cleaning, limb removal, etc. The grass and weeds had not been cut in years. Some of the weeds were seven feet high and thick! Some areas could not be reached due to the weeds and grass covering the area and our inability to get a lawnmower to them. It was sprinkling all day with a huge chance of rain that day, so we couldn't use weed killer. We used a leaf blower to get rid of as much of the cut grass as we could, blew the memorials off, and placed flowers on all of the graves that we could reach.
"Since Founder's Day, I have gone back three times to maintain the grass and weeds and to work on getting to the hard-to-reach places. I have sprayed weed killer on it twice and have removed a good amount of underbrush to make it safer. In the south, snakes are dangerous and are a huge concern of mine when I go out there.
"What does it mean to me? I live in a very small town (no Walmarts or Winn Dixies within an hour-small). The place the cemetery is located is even smaller. I started off doing the project in honor of my great-grandmother and a few of the elderly people in that area who I was close to growing up. That's what it meant to me in the beginning, but it means more to me now.
"I posted about my project on social media as requested, but I'm not big on social media and originally only signed up to keep track of my kids. When I posted about the project online, private messages and phone calls started coming in. I'm fortunate to still have my grandmother with me and she actually cried, as did Mrs. Janelle who still resides in that area. People I don't know were thanking me and telling me about how they have loved ones buried at the cemetery. People I'm not even 'friends' with on Facebook also expressed their gratitude.
"I was, and still am, completely humbled by the opportunity to help others in such a way as this. I didn't pick up trash in a heavily populated area like some of the other reps (mainly because we don't have one), and I know some of these people will never actually see all the work we put in, but they have some peace of mind knowing their loved ones' memorials are being taken care of and that each person buried there is being celebrated.
"I hope to finish cleaning up the entire cemetery and put up a fence. Eventually, I want to have some sort of sign or monument with the church name put up there as well.
"I guess my problem with coming up with a Founder's Day project was so hard for me because I wasn't able to do anything grand that I felt would help a lot of people. What I did helped a few people and families in a grand way, and I didn't realize this until I had finished that day. Being able to give without any real reason has been one of the best feelings in my 43 years."
"Blessed to be with a company that gives back! Happy Founder's Day!" said Alana.
*Source: Alabama Places in Peril, Published by The University of Alabama, The University of Alabama at Birmingham, and the Alabama Department of Archives and History.