During the 2022 Christmas season, the CharityRx team worked together to donate food and gifts for less-fortunate people nationwide through our 12 Days of Hope event. CharityRx representatives chose the method, person, or organization they wanted to help. Using donations generated through the CharityRx prescription discount card, each rep purchased gifts to spread hope and help make the holidays warmer and brighter. Below are a few stories about the people and groups that CharityRx reps selected to help.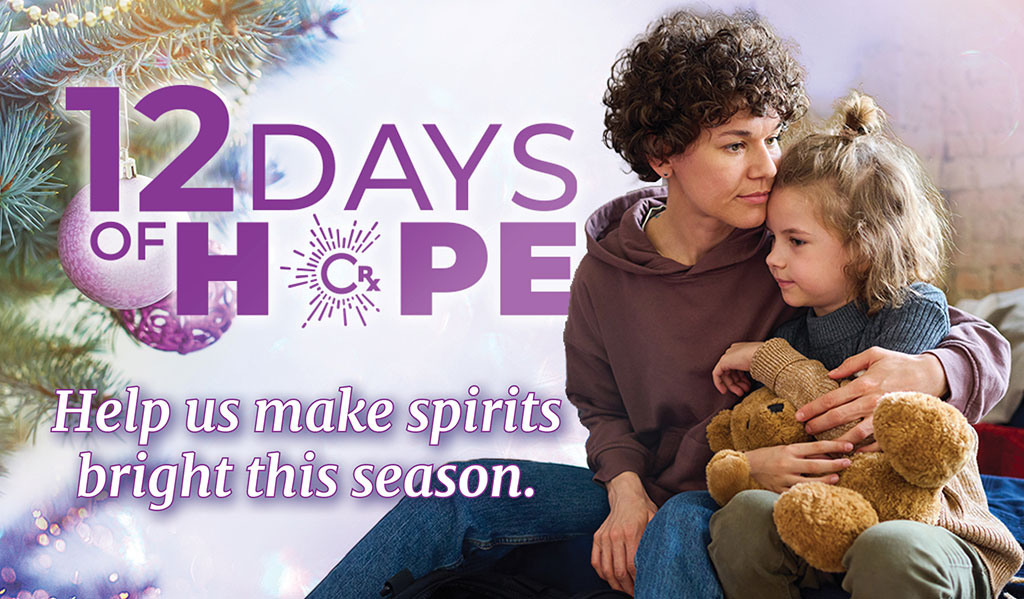 Warm Coat Drive
This charity came at a good time because it was extremely cold in the Bay Area this year. I purchased 11 parkas for all age groups. It was such a fun experience to help people stay warm.
–Robert Erion, San Francisco Bay Area, California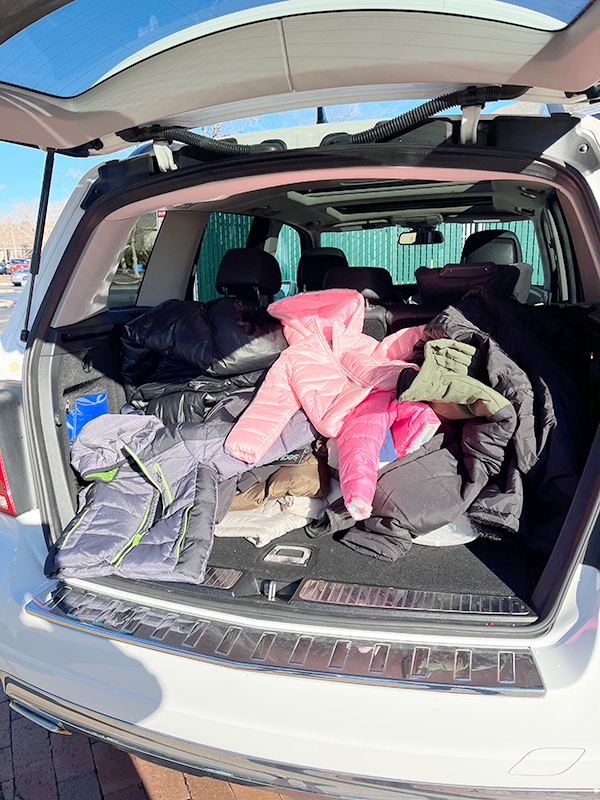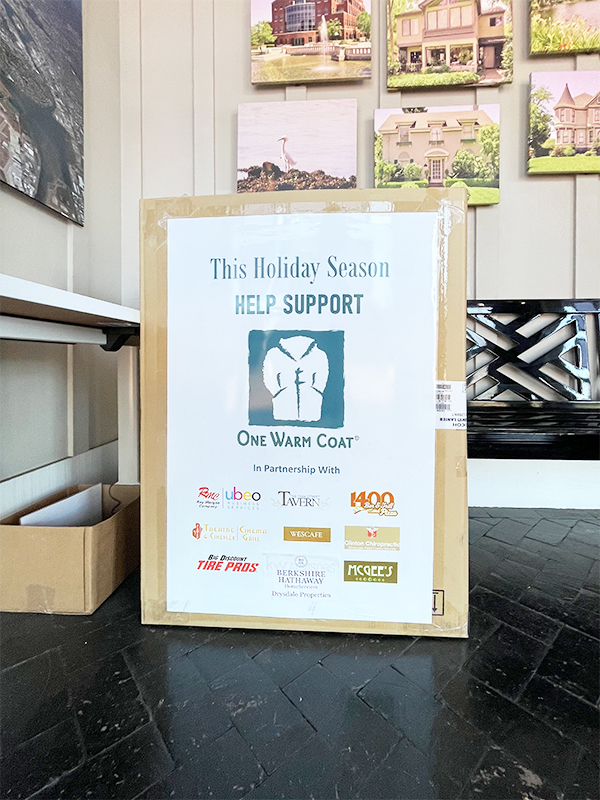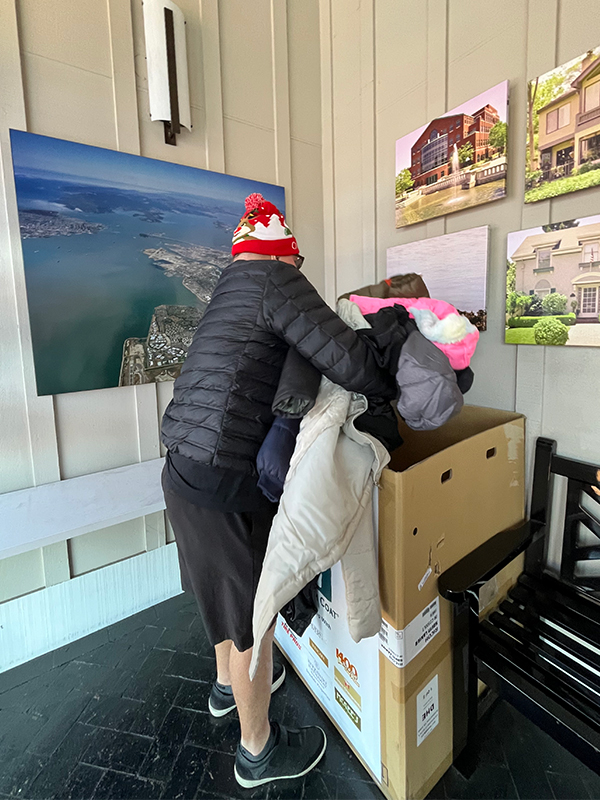 My Friend's Place
For the fourth year, I provided and ate lunch with homeless teens at My Friend's Place. There were personal gifts in excess, a wish list, dance memberships, and friendships forged with these amazing kids! Such an amazing opportunity!
–Carolyn Johnson, Washington
Tim H.
Tim is the sole provider for three kids. He's currently on disability and waiting for back surgery. I donated all the money on my gift cards toward gifts for the family. I wish I could have done more!
–David Gingrass, Washington
The Shepherd's House
My son's school was collecting items for The Shepherd's House, and we provided goods and food. I thoroughly enjoyed sharing this experience with my family!
–Derick Mauck, North Carolina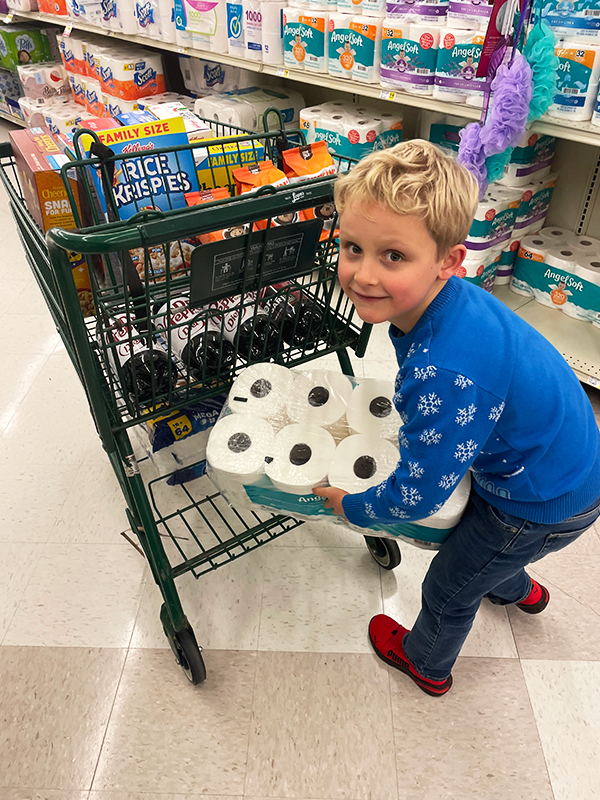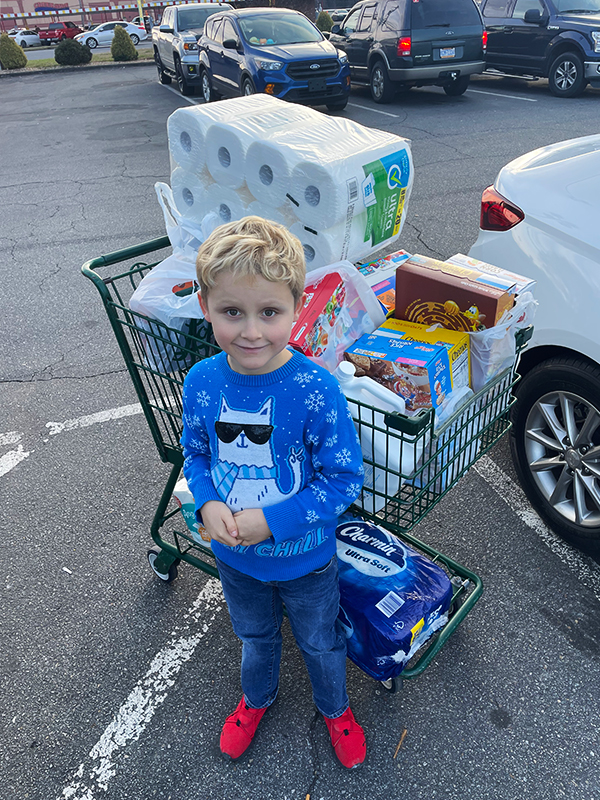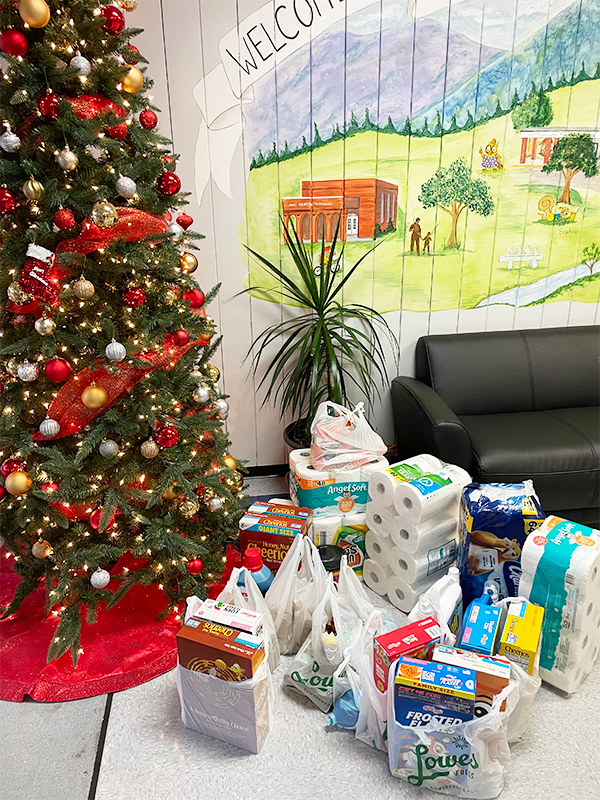 ---
Homeless Individuals
Our area has a very large homeless community, and I cannot stand seeing people cold or hungry. We made bags with food, gloves, hats, socks, Chapstick, A&E cream, hand warmers, cough drops, pain medication, etc. It was such an amazing idea, and I feel so thankful to be able to be a part of it. I think it's wonderful that we each got to choose something close to our hearts.
–Heidi Bales, Missouri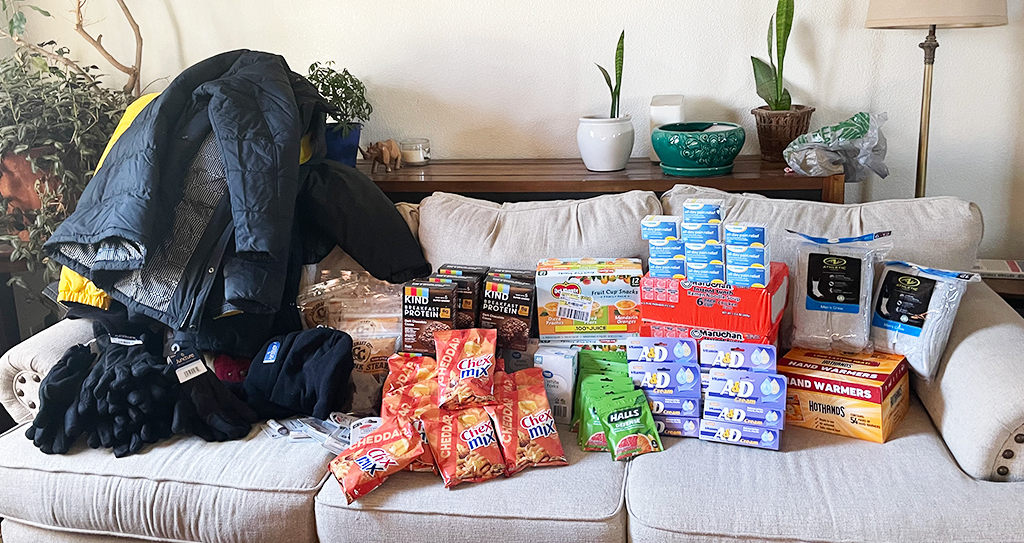 Community Social Club
I donated clothing. I decided to help Community Social Club because I love how they are helping individuals with disabilities and that the majority of them are adults. I feel like sometimes adults get overlooked over the holidays. I decided to help a 36-year-old female because her wish was for some clothes. I bought her quite a few outfits, which I hope she'll feel great wearing. I also donated to a charity where you could purchase meals from Smith's Grocery Store to help people out (they scan a barcode on a tree) with how much you want to donate.
–Angela McLay, Utah
Children From an Impoverished Inner-city Church
The pastor was ill and couldn't do anything for the children. The children were thrilled; they were not expecting anything. I hope everyone had a wonderful Christmas, and remember that the birth of Christ is the reason for the season.
–Zaragosa Beltran, Texas
A Single Mother and ICORT Outpatient Program
I selected a single mother who has had to bounce back from an ongoing divorce, caring for her grandmother, who recently had COVID-19, her sister being in the hospital with complications from diabetes, and caring for two boys alone. Due to her caregiving responsibilities, she could only work part-time hours in the weeks leading up to Christmas. Without CharityRx, this family would be without gifts. When I asked the mom and boys to write out a Christmas wish list, hats, boots, and jackets were on all three lists! I was able to meet the family to shop, try on, and pay for jackets, boots, hats, winter outfits, and a few gifts for mom. With the leftover funds, I bought "smell good" gift sets for participants in a local outpatient program for people leaving mental health facilities and re-entering the community. I would like to express my gratitude to the CEO and Leadership team at CharityRx. I am so proud to be a part of an organization and movement that supports its reps, local pharmacies, and our communities. I have never been so proud.
–Charita Ford, Mississippi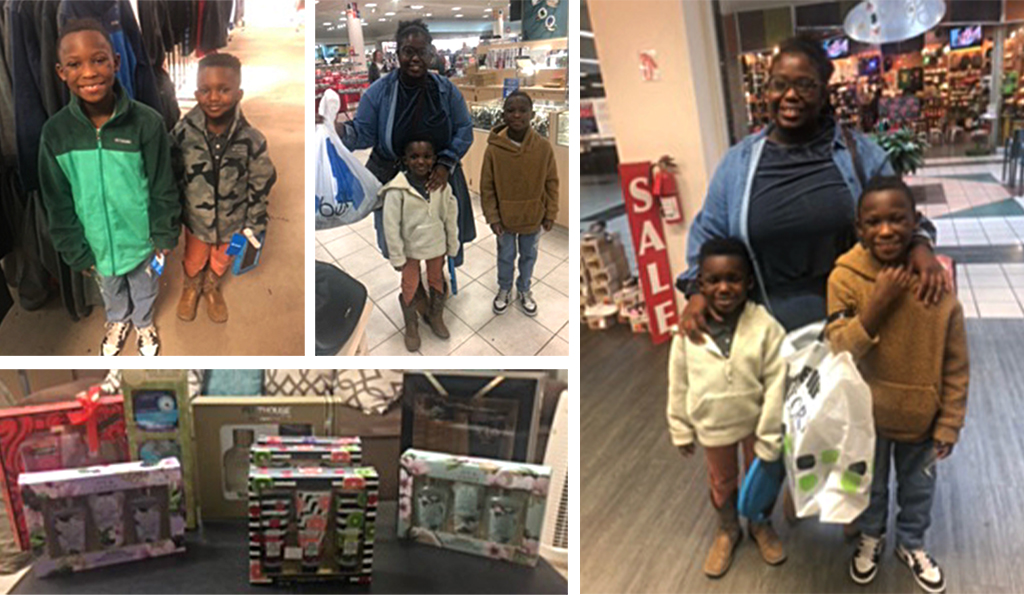 ---
Roland-Story Elementary School
When I was growing up, my family was personally helped by programs to pay for school lunches when we were younger, and there are many families in need in the area. I donated to this organization.
–Dustin Arnold, Iowa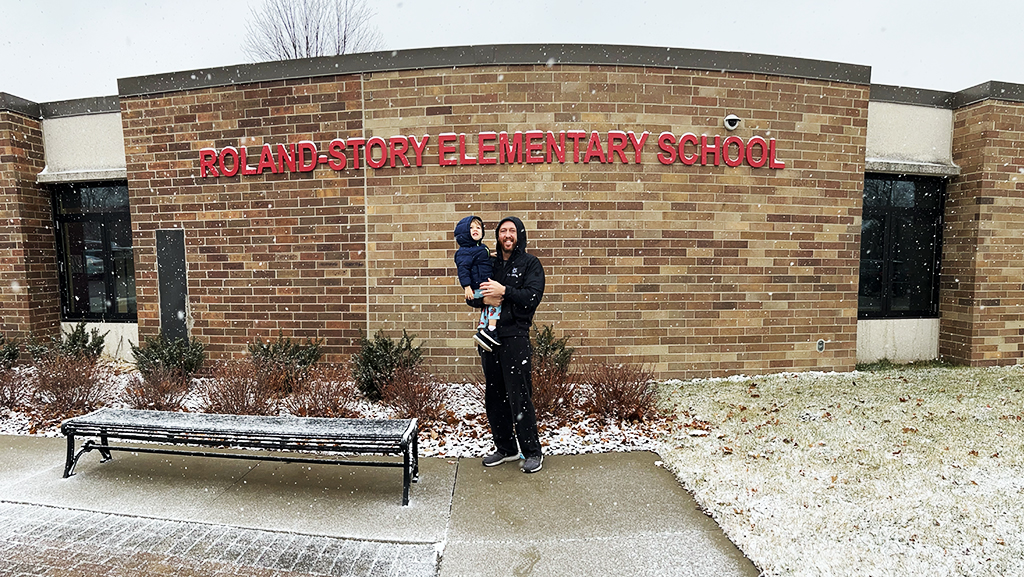 ---
Local Families
My middle daughter, Quinn, had mentioned some kids in her class that were struggling a little this year. I was able to get every gift on the list for seven children this year! It was incredibly rewarding to know these kids are going to have a better Christmas because of the work we do. I'm very thankful to be a part of such an awesome company.
–Caleb Lester, Oklahoma
Salvation Army Angel Tree
Our area has many low-income families with children I am already involved with from working with another organization. I knew that they really needed help this Christmas. My daughters and I were able to buy things for eight different kids on the Salvation Army Angel Tree. This was such a great way to help spread love in my community, especially because I was able to get my own family involved.
–Courtney Spiers, Georgia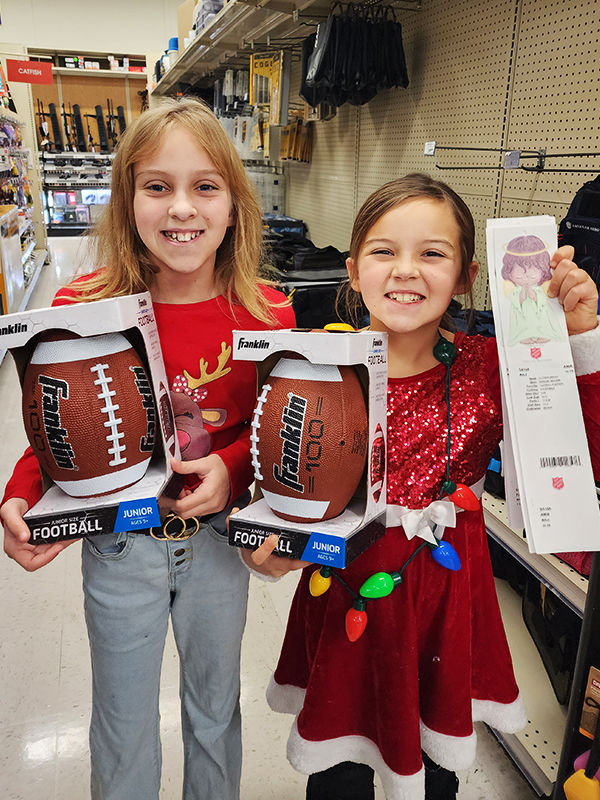 Cleveland City Mission
Through my research, I came across the wish list for the Cleveland City Mission, and they needed so many items! I felt a bit overwhelmed. I know they do so much good in the community and felt that this was the perfect place for giving. I bought so many needed items from their list! Even after spending the budget, I returned to the store and bought more. Included were six bottles of shampoo, five bottles of conditioner, five bottles of baby shampoo, five bottles of baby lotion, four packs of baby wipes, a baby blanket, three baby onesies, two sets of kids t-shirts/shorts, two men's dress shirts, two pairs women's shoes, one pair kids slippers, two baby toys, five small kids toys, four pillows, two sheet sets, four journals, four packs index cards, six bottles ibuprofen, two women's tank tops, nine pairs of socks (baby, kids, men's, and women's), three packs reading glasses, two notebooks, one set men's boxers, 6-pack men's T-shirts, two kids superhero card sets, case of feminine products, five teething rings, 3 Elsa dolls, and two calendars. I listed everything because I was amazed at how much I got with my gift cards, and I know all of this will be put to excellent use. It truly warmed my heart, and you were right with the warning posted: It was really hard to be a grinch after doing this! I had a blast shopping for others and was so excited during the delivery that the guy helping me, Robert, felt he needed to hug me. I also had a great time visiting the stores afterward, telling each one what I had just done. They loved it.
–Patty Engel, Ohio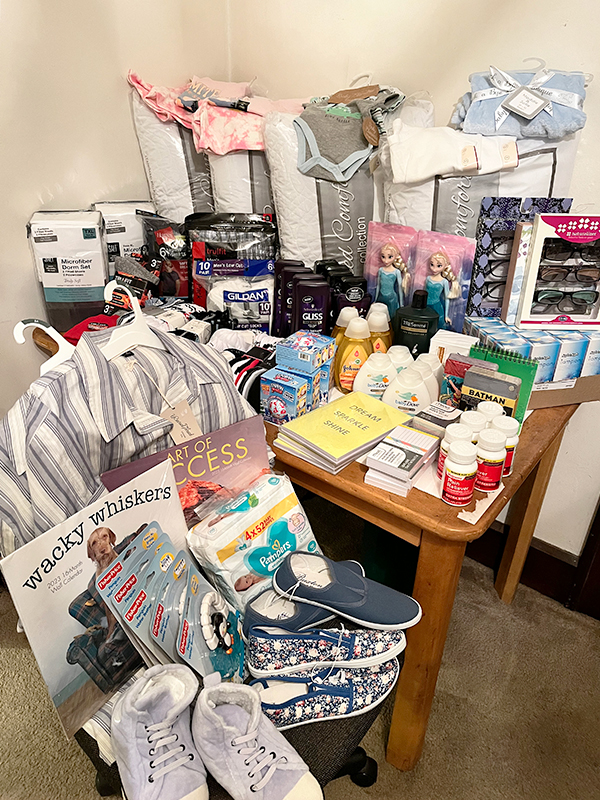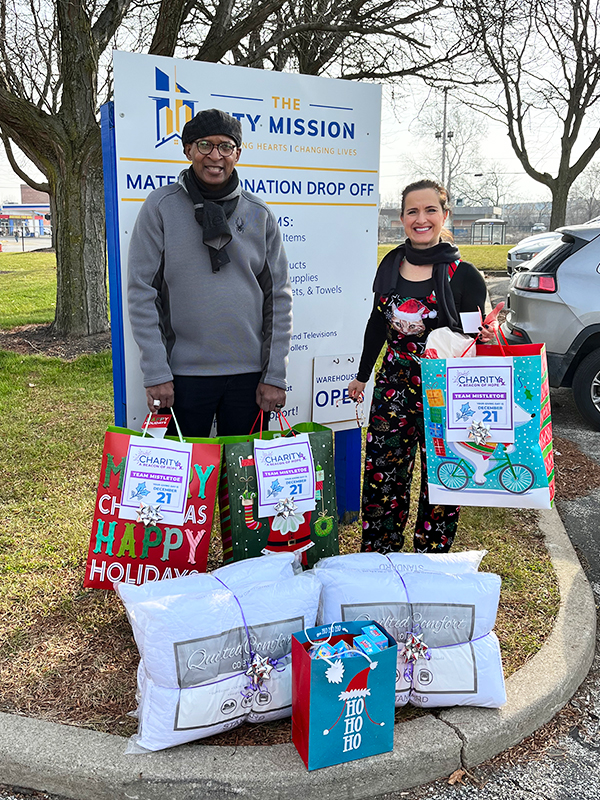 Young Growing Family
My sister's next-door neighbors are a young family with a toddler and a baby on the way. The husband works outside the home but doesn't make much money, and the wife stays home with the baby. My sister had been talking to them, and they were feeling down because they wouldn't have much for Christmas this year. I purchased lots of diapers, wipes, and snacks, then got them a more personal gift and a couple of fun Christmas items. It was fun to have the opportunity to think about and shop for someone who isn't able to purchase these things for themselves.
–Becky Killpack, Utah
Local Ukrainian Refugee Family
We helped a family who had just moved here from Ukraine as refugees. They had to leave pretty much all their possessions behind and start over here. We left for the Poconos for Christmas with my family, and we left all our Christmas decorations, tree, and lights as their family came to house-sit for the holidays. We wrapped all the presents we had purchased for them, and my parents reached out to more people in our church to get some essentials for this family. We placed it all under the tree, and they got to celebrate Christmas Day with all their own gifts under the tree. When they came to visit before Christmas, the little boy asked if the Christmas tree would still be up when they came back, making it that much sweeter to surprise them. It was an amazing experience, and I very much would love to do it again!
–Timothy Katko, Pennsylvania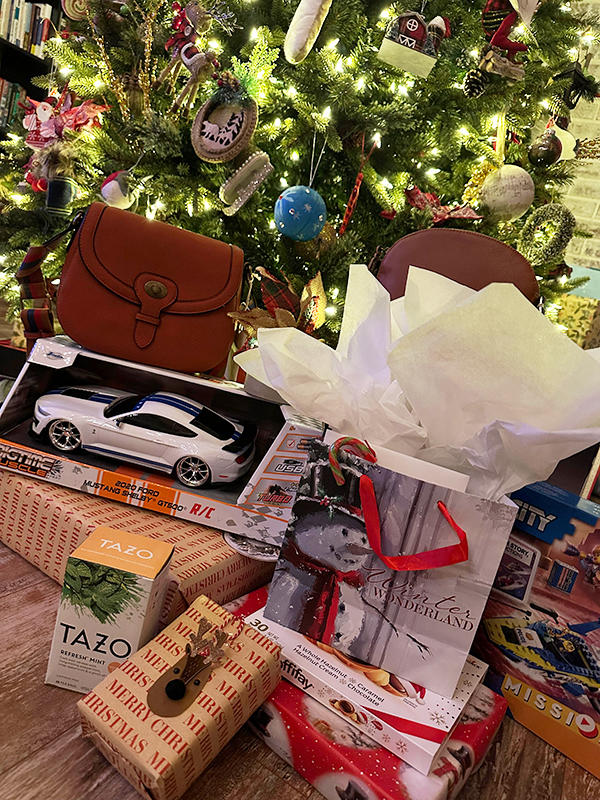 ---
Melissa and Bonnie
Melissa is a woman with two teenagers who recently went through a divorce. She gave everything away, and we thought she could use something just for her. Bonnie is an older woman who lost her husband this year. This Christmas would be the first without him. We wanted her to know she wasn't alone. We left secret gifts on their doorsteps. These gifts were specially chosen for each individual to bring comfort, peace, and hope to their homes. One gift was a memory bear made out of her deceased husband's clothes. We loved this experience. It was so good for our family, especially our children. I want them to grow up with a giving heart. It also made us want to do more. Besides participating in the 12 Days of Hope, we cooked dinner for a family and gave secret presents. Giving is contagious, and there are so many people we can help.
–Ben Levie, Utah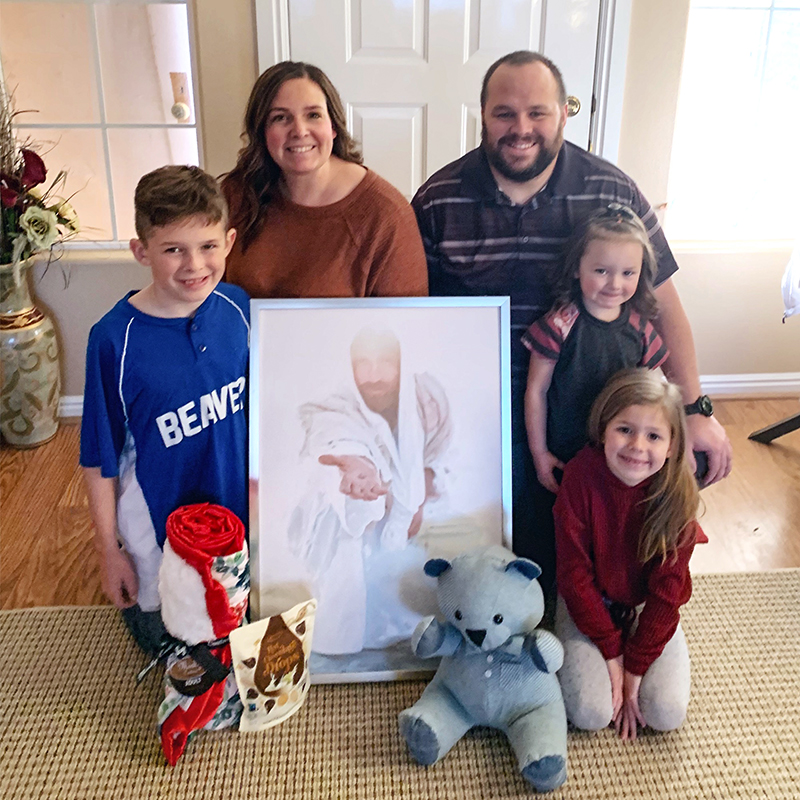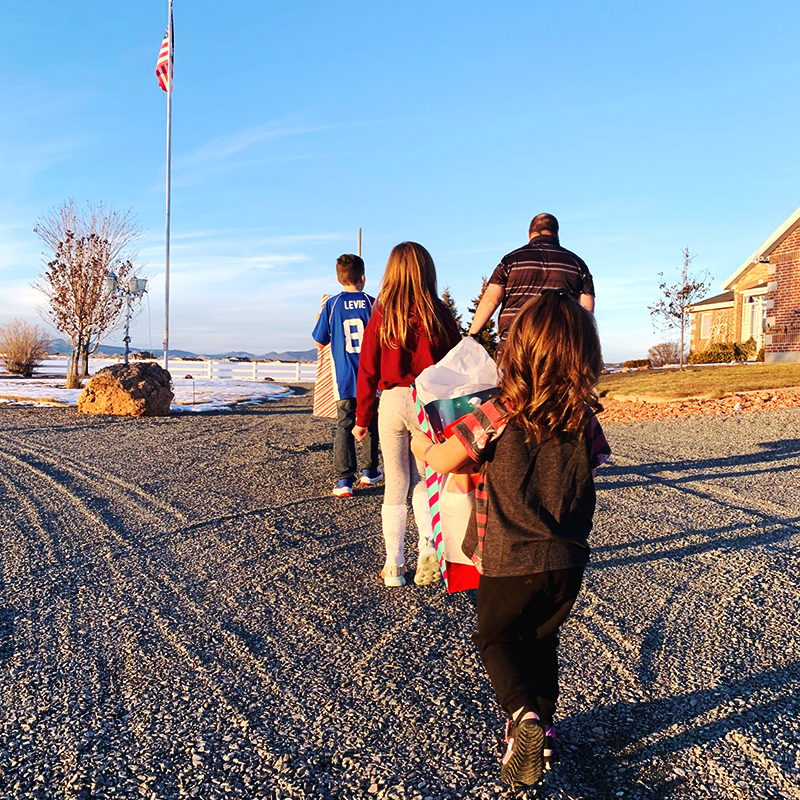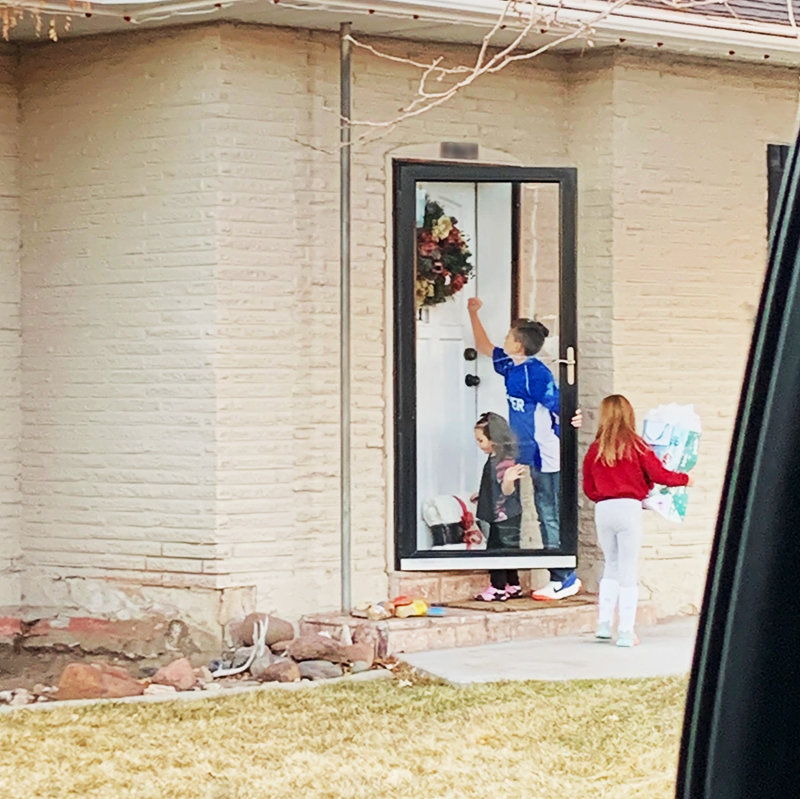 Ronald McDonald House
Ronald McDonald House does great work, and I wanted to help them out. I purchased items from their wish list and delivered them. I love that we are given the opportunity to give.
–Joseph Maxon, New York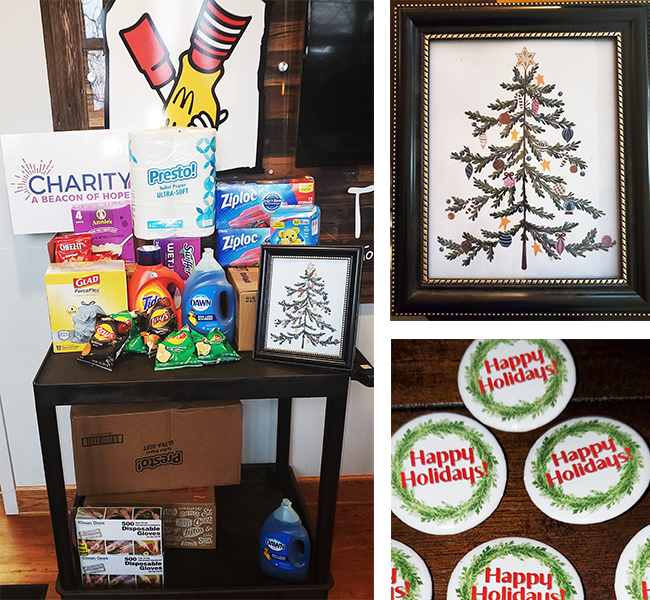 St Mary's Food Bank
St Mary's Food Bank is the first food bank in the world! They are very strong in the community of Arizona. We donated 216 lbs of food to those who need assistance and will feed 80 families and hopefully more. They needed 96 lbs of pasta, 4 cases of string beans, and 22 jars of peanut butter. God bless CharityRx for making this possible! It gives me a warm fuzzy feeling, and I pray for those in need.
–Paul Mancuso, Arizona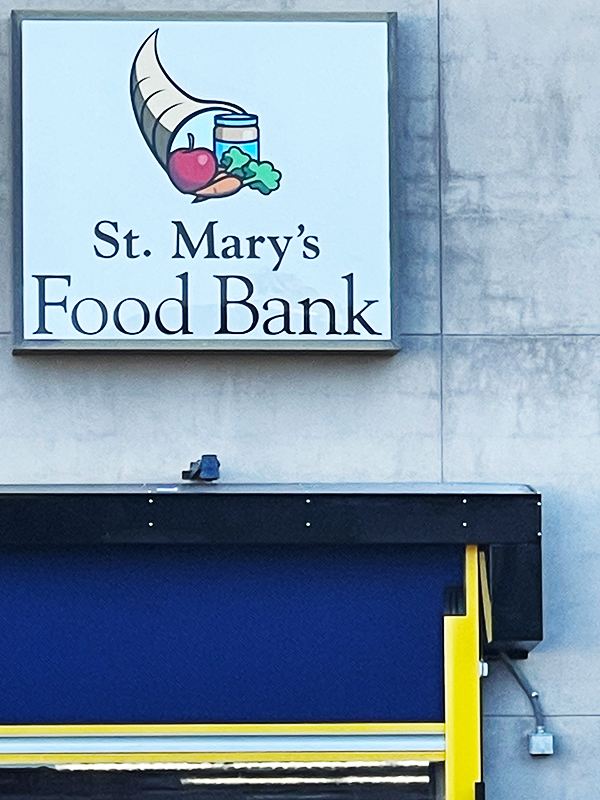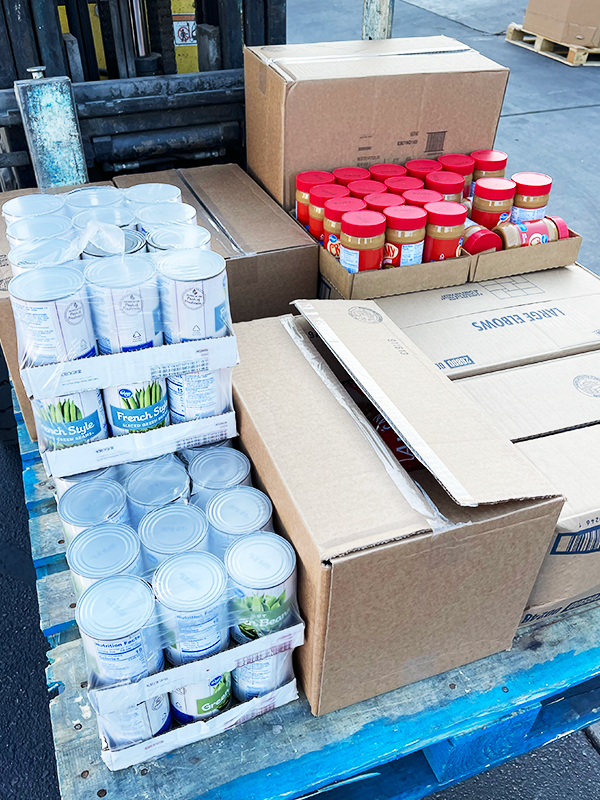 ---
A Single Parent From My Church
I asked the children's pastor at my church if he knew of any children who needed help for Christmas. I was able to give them all the food they asked for and clothing for the two kids. I also gave presents on my own to two children on the Angel Tree and purses with gifts inside to eight women. I loved the gift of GIVING. When my grandchildren get a little older (maybe next year), they will be able to help me.
–Mary Tockstein, California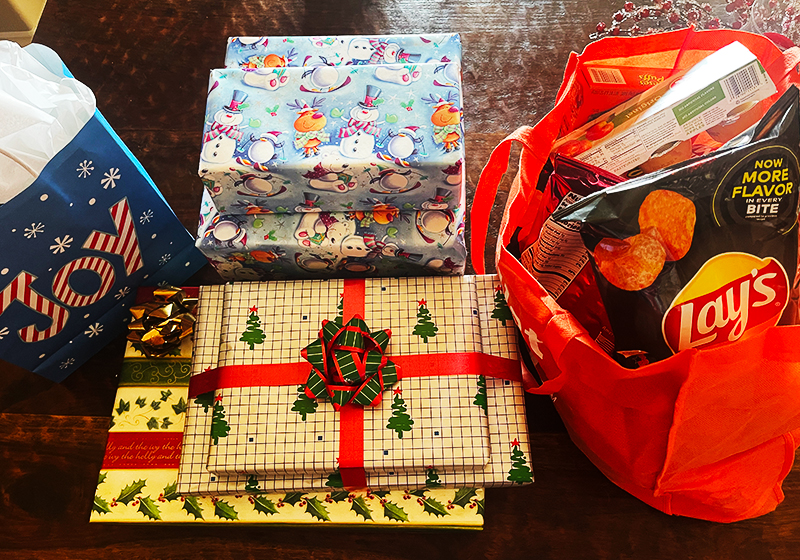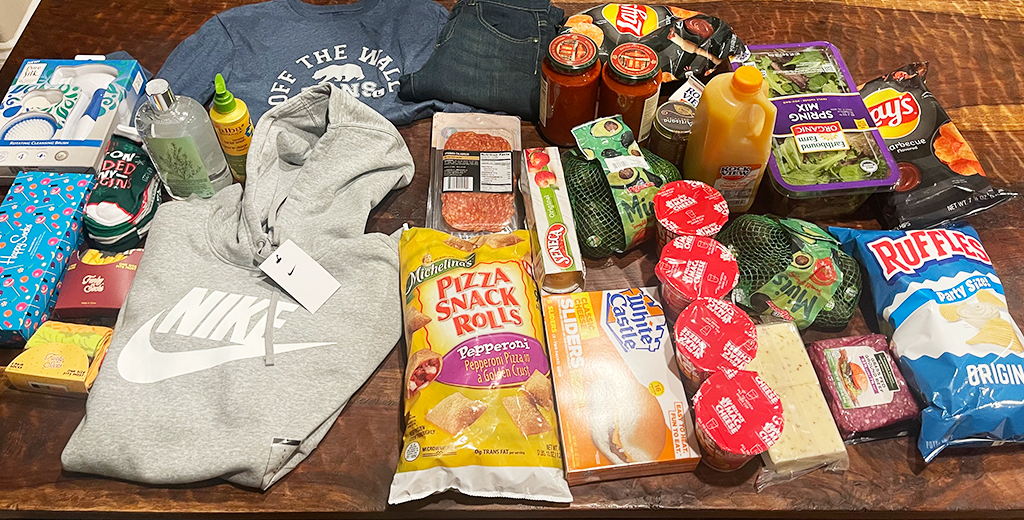 Local Orphan
A family church friend heads up a program to help orphans in the Lowcountry of South Carolina during Christmastime. We just can't imagine how it feels not to have a family, especially during the holidays. Our family used this opportunity to shop for our infant female orphan to provide this angel with diapers, clothes, blankets, and toys. Our family is grateful. As much as we have wanted to, we have never really been able to do something like this consistently. I am so proud to be a part of this company and all it stands for! Thank you for allowing my family to represent CharityRx in this way.
–David Beckley, North Carolina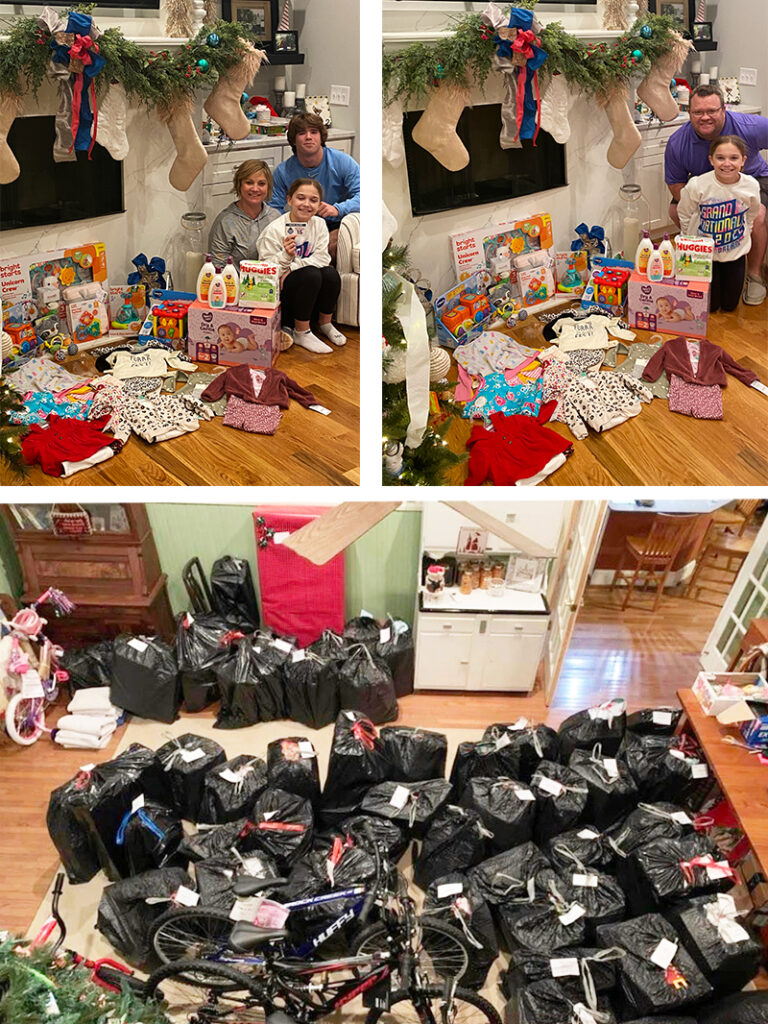 Ronald McDonald House of Pensacola, Florida
Having stayed at the Ronald McDonald House myself while our daughter Holin was in ICU many times, I knew that purchasing items from their wishlist would be really beneficial in helping families whose children are in the hospital. With the help of my daughter, Holin, I purchased some items from the wish list at the local Ronald McDonald house in our hometown, and we delivered those items, visited the house, and got to speak to a few of the families. I have really loved this charity; it's been so wonderful seeing all of the reps spread HOPE across the U.S.!
–Tonya Saucer, Florida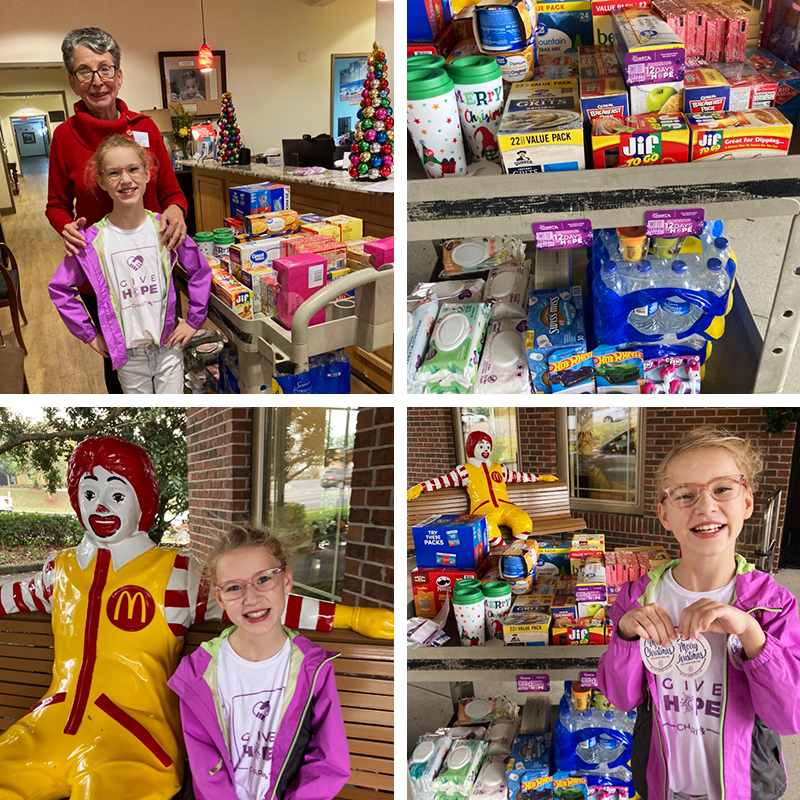 ---
Helping the Homeless in Springfield, Illinois
My friend, Julie, is a one-woman force of nature for finding food for the homeless population of Springfield, Illinois. She has many donors of blankets, socks, shirts, and other needed items. Over the years, she has often seen homeless individuals alone and hungry during the holidays. Due to CharityRx's generosity, Julie was able to give $10 gift cards from McDonald's to 25 people. She was so grateful! I was fortunate to meet AJ at McDonald's and learn more about his life while he had lunch. You can see by AJ's expression that his day was brighter as a result of CharityRx's generosity.
–Sylvia Swegle, Illinois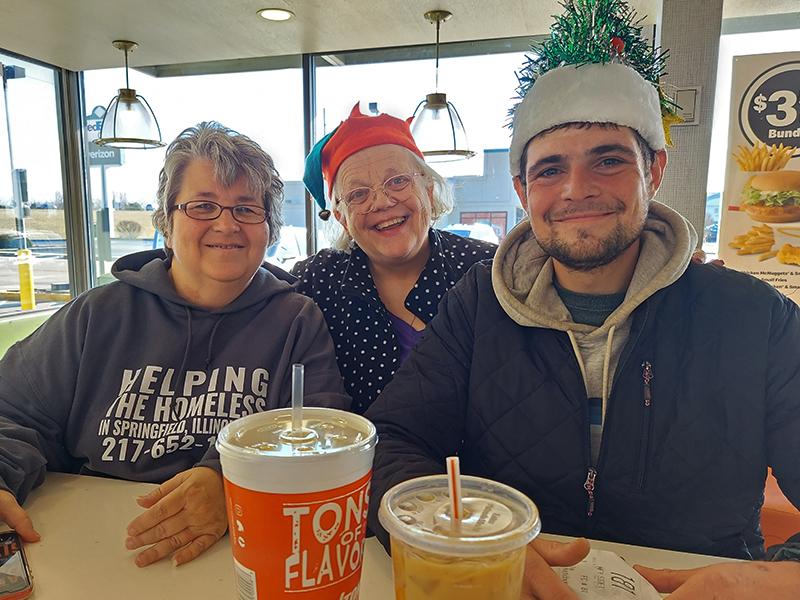 Three Families
We wanted to give to families in need. We asked our church ward about families needing extra help this holiday season. We bought Christmas presents and candy for six kids.
–Rachel Beaumont, Utah
Two Families in Need
I asked community leaders if they knew of families who could not provide Christmas gifts for their kids. I purchased individual gifts for each family member and games for the whole family to enjoy together. We dressed up as Santa and his elves and hand-delivered the gifts to their homes on Christmas Eve. We should do this every year! I loved seeing everyone's donations!
–Kamie Christian, Utah
Ronald McDonald House
I have worked previously with Ronald McDonald House with CharityRx. Their staff is delightful. They always need stuffed animals, games, toys, toiletries, crafts, and educational supplies. Knowing that RMHC helps the patient and their family, and with my discount store connections, I felt that I could stretch the gift card to get needed items and more from their wish list. The FAO Schwarz soft and cuddly animals were an instant hit with staff. Seeing that, I knew that the little ones staying at this facility and suffering from cancer treatments would be comforted by them. I feel privileged to have been able to volunteer my time and energy to help others in need during this season of giving. Also, knowing that many people and organizations need much, we should do this several times a year for other local charities in each of our communities.
–Lynne Halbasch, California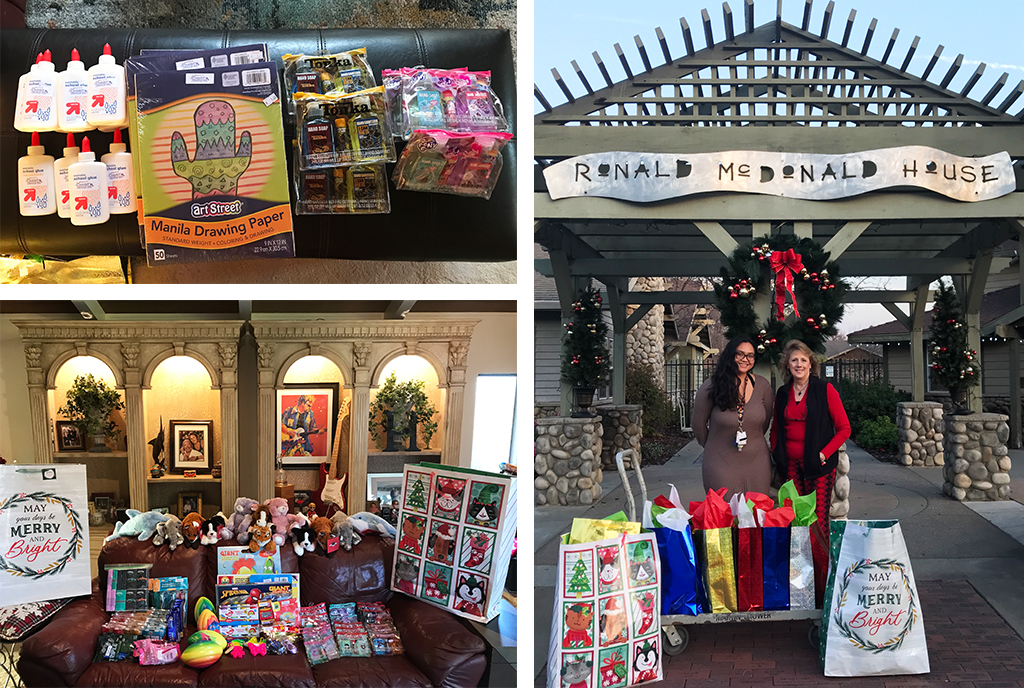 ---
The Shade Tree
I loved that I was able to help The Shade Tree, an organization for women and children who have suffered from domestic violence. They also help the families pets. My children and I bought much-needed hygiene products, and we also got winter items. I love doing this and hope we can continue to do more donation projects together. It was a great opportunity to serve and have my family serve with me.
–Matthew Noel, Nevada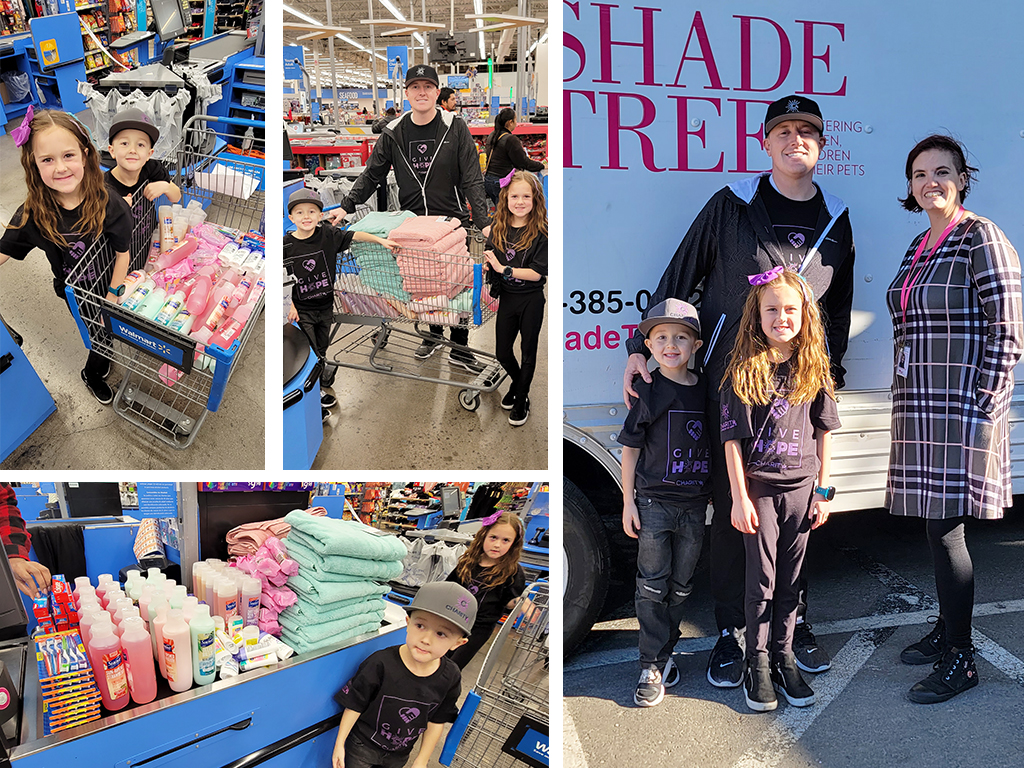 ---
Davis Technical College Food Pantry
My brother's coworker in Farmington told me that the Davis Technical College Food Pantry which serves homeless and low-income students and teens needed donations. My family and I delivered food, deodorant, shampoo, and other hygiene supplies. It was fun to shop and see people look at me strangely with a cart full of stuff. Seeing the bright smiles of the people who worked at the facility when I delivered the supplies made my day for sure.
–Ben Jackson, Utah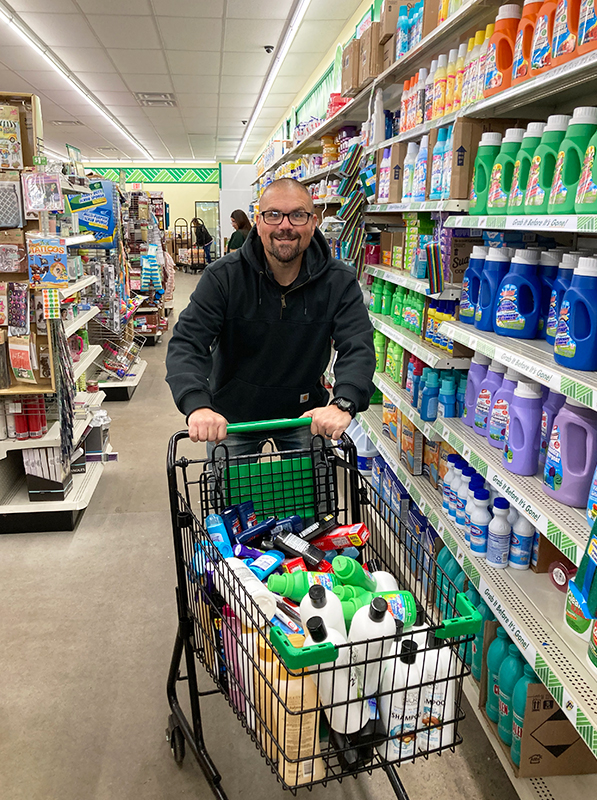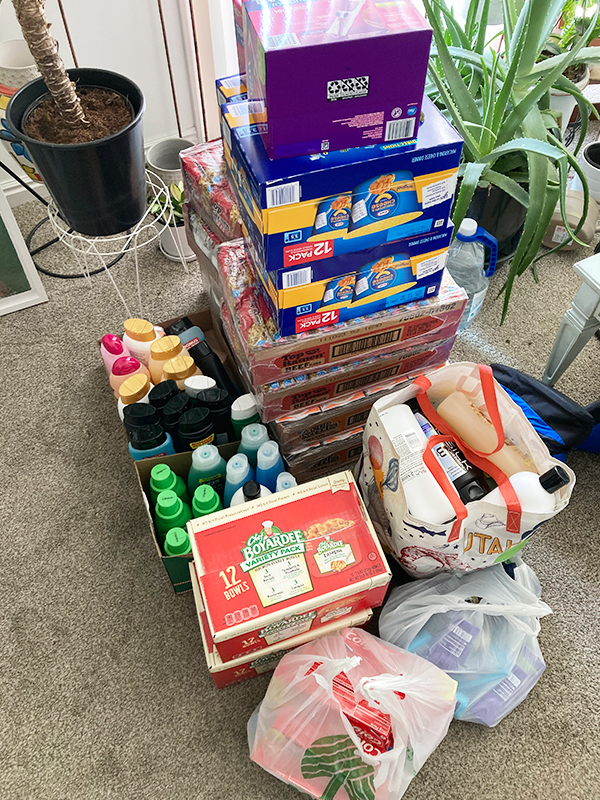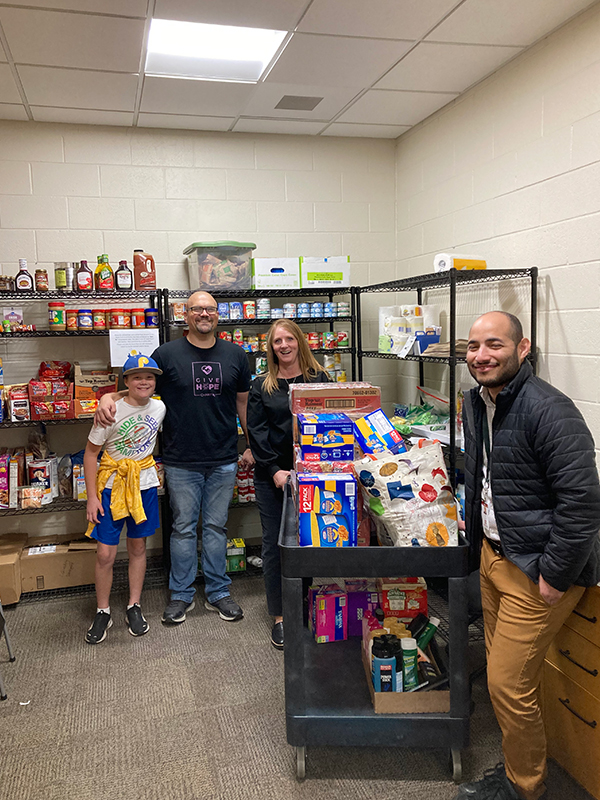 ---
The Rec Project
The Rec Project recently took in 40 to 50 homeless kids who had been living in an extended-stay motel that closed down. They had been feeding the kids every day and were in desperate need of help with food. My family and I delivered food to the kids on the same day they were getting a visit from Santa.
–Cameron Brown, Tennessee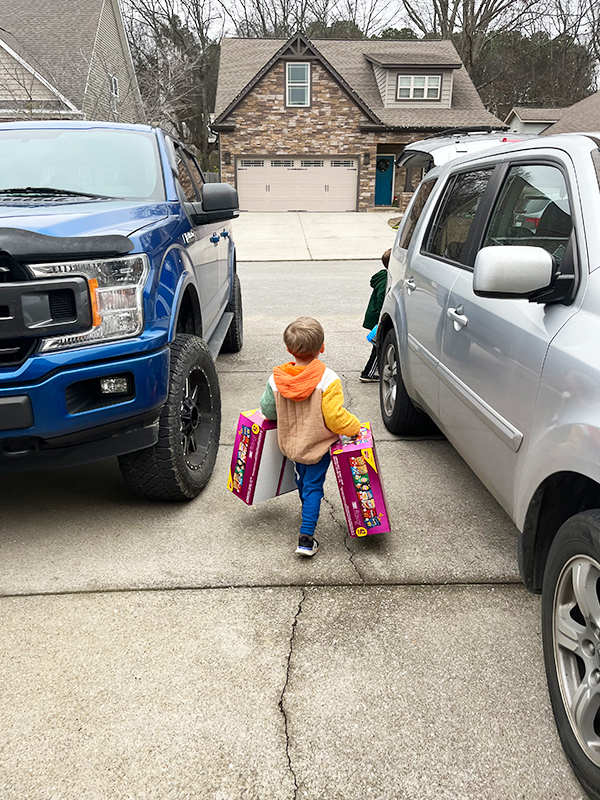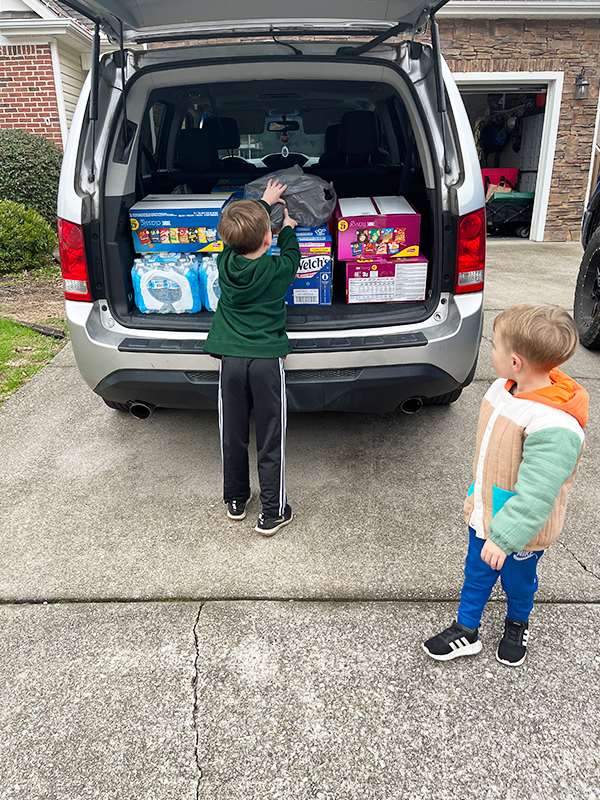 A Single Mother and Her Son
We were randomly paired up with a single mother by Christmasproviders.org. I used the gift card to purchase a Christmas tree, a fruit/vegetable juicer, and a PlayStation gift card. I didn't expect this experience to fill my spirit with gratitude and love as much as it did.
–Javier Carrasco, Texas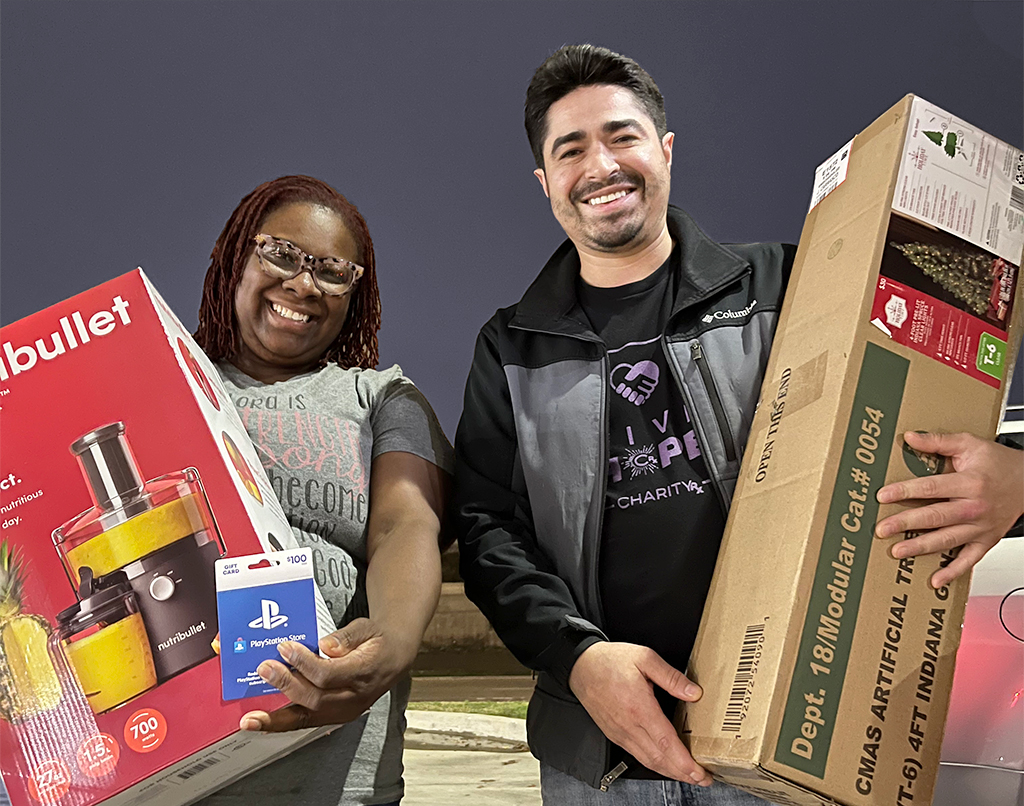 ---
Neighborhood Family
I was unsure how to find someone at first, but then I remembered my neighbor had mentioned a family she knew was in need because she was taking them some food. I approached her, and she explained that they needed help because the father had injured himself and was now considered handicapped and unable to work. I did not take the family's picture because the father felt uncomfortable doing it. In addition to this, I made some extra candy bags and placed a couple of cards inside. Whenever I went through a drive-through, I offered the worker a bag and wished them happy holidays. It has surprised everyone so far.
–Omar Casanova, Texas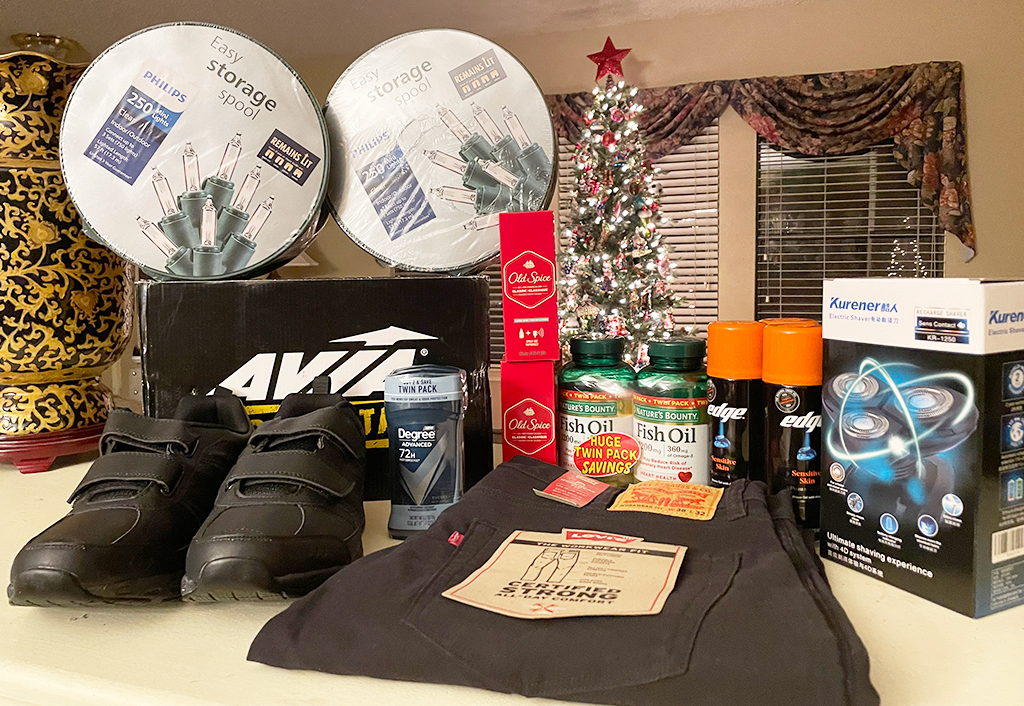 ---
CharityRx chooses a different charity to support each month. When you use our card, you save money on your prescription medicines and donate to a worthy charity. With your help, we spread Christmas cheer and hope from coast to coast. Watch our blog and social media for details on who the next charity will be, and continue to use your CharityRx prescription discount card to help.